So you want to earn techno points around the work group, or want to just beef up the tech rep at home? This one might earn you some technokarma points. Its a pretty obscure (at least i think so, maybe everyone knows about it) Firefox thing to in one click, generate search results from any site with a search box — without having to go to their form.
The trick involved creating an abbreviation that Firefox can associate with a search field. Let's say.. oh… you really dig using images from the flickr creative commons search. But it means always going to the general page, perhaps picking the license track you want to go down (sidelight-= where will they get an interface designer to collapse this to one page?? when??), waiting for the most recent ones to load, and then doing the search.
Let's say I like using the Attribution Non-Commercial Share Alike section.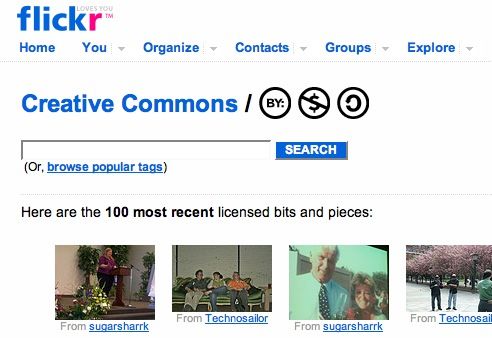 Find the search field, and right-click (Windows) or ctrl-click (Mac) right in the search field. From the contextual menu, select Add a Keyword for this Search…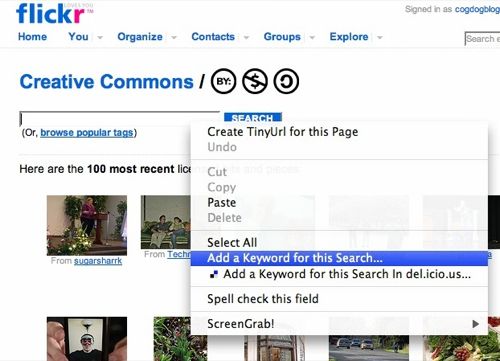 You then will get a dialog box where you set up the keyword search. The name field is not critical field; it is just listed somewhere in your bookmarks under this name. I named mine "flickr cc". The important field is the one for Keyword – this is the abbreviation you will use to generate the search, so it should be short but memorable. I used for this one "fcc" for "flickr creative commons".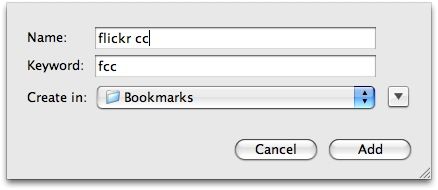 And you are done!
Wait a minute, you say… what have I done?
You now have a keyword shortcut to a flickr cc search. So go to the URL field in your Firefox browser (or command-L for you shortcut junkies). Instead of entering a URl, enter your keyword followed by a space and then the words you want to search for. So I may enter from any web page (you don't need to be on the flickr site):
fcc pirate jail
and press Return/Enter.
Shazam! It should take you directly to the search results.
You can create as many of these as you can think of (or remember). I have one to search my own flickr photos, one to search the php docs, one to search YouTube…
There you have it! With this tool in your box, you are much more than just a browser of web content!