After waiting for a replacement camera battery and a new 8 Gb memory card, I was eager to try out a first Gigapan image. I was introduced to this nifty technology by Keene Haywood at University of Texas, Austin; since Keene knows the developer of the robotic camera control developed by CharmedLabs, he got me one of the last available beta versions of the device.
As background, Gigapan is part of the Global Connection Project at Carnegie Mellon University:
The Gigapan camera is a simple robotic platform for capturing very high-resolution (gigapixel and up) panoramic images from a standard digital camera. Sponsored by Google, CMU and the NASA Ames Intelligent Robotics Group, the Global Connection Project has also developed software which places you inside the panorama and lets you explore.

An earlier version of this imaging technology was developed for the Mars Exploration Rovers; the panoramas created from Mars enabled a simulated experience of being on another planet. The Gigapan project aims to create a similar experience, but for exploration of Earth.
The device created by CharmedLabs is a camera mount that sits on a tripod: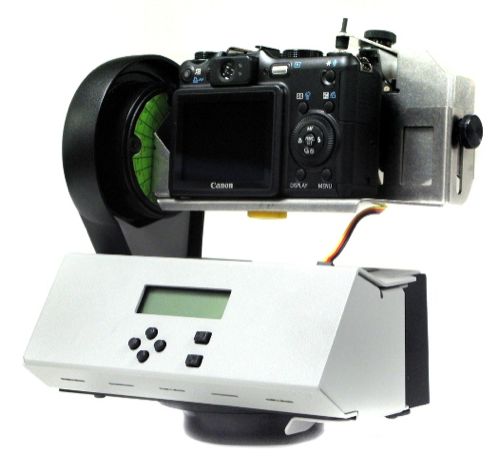 and is designed to work with pocket sized consumer digital cameras. More or less, the camera is attached to the device, you select the top left corner of a scene, and the bottom right, and using a zoomed in high res setting, the computer on the device moves the camera across, and up/down to take a series of overlapping images that are later stitched together.
There are plenty of panorama stitching programs; but most are for a single row of images- the Gigapan can do several rows, creating a much more detailed image too by shooting at full zoom. But that magic is when the image is loaded on the Gigapan site.
So today while I had planned a hiking trip for visiting colleague Westley Field, headed to the West Fork of Oak Creek Canyon north of Sedona, we made a detour onto the way into town at Bell Rock, one if the iconic Sedona red rock blobs. The spot we found best to set up seemed a bit close to the rock, but actually it worked out fine.
The set up is not too bad once you have done it a few times.
And it is fun to sit back and watch the camera move around and snap photos all by itself.
So my first set up panorama was 3 rows of 14 photos, and run through the stitching program, I got this image: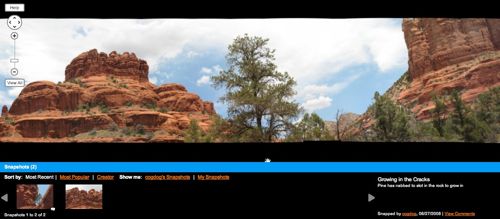 But the real magic is how it works on the Gigapan site- see
http://share.gigapan.org/viewGigapan.php?id=6288
Use the controls on the left to pan and zoom, or just use the left/right arrow keys to pan and the "+" "-" keys to zoom. As you move in, you get more and more detail. You can stop anywhere in the full image and click "Add Snapshot" which saves a "bookmark" of sorts to a particular detail of the scene, and you can add comments– annotating the image. But it gets really fun when you click the snapshots that others add, because each one will zoom you in/out to the exact location.
I'm excited to at least be utting this together, and now that I know how it works, its time to get creative with how this technology might be used as an exploration/collaboration tool.