The subtitle might be, "Curse You Twitter For Letting Me Down". Or much worse than, "curse you".
But actually, its more of a shrug. As much as I like poking fun at flickr's flakiness, it does not cause me loss of sleep or hair, as pretty much it is not truly essential to me work/life. But more than that, the vagaries of external sites can either break your heart or spurn you into adrenaline mode to find a fix or just … I promote the use of such tools, but its not the foundation I build my sand castles in, and the hard lesson is that the sand can shift under your feet. What can you do? Cry? Pray? Drink?
What should follow here is a bit of sharing of two social media sites that flopped on me surrounding the 2008 NMC Summer Conference. But first a bit on the social tools wrap around on conferences, which has certainly come to be expected (for some) to have conference tags, nings, wikis, tweet catchers, etc. I set it up again this year for Tag This Conference using my own Feed2JS to pull in stuff from flickr, technorati (does that even still work?), and del.icio.us, plus tossing in a tumblog and friend feed for the heck of it.
I've been wrangling that for the last 2 years around the NMC conferences, asking people to tag flickr photos, blog posts, del.icio.us web sites. I'd say it is moderately successful, though in retrospect, a rather small number of people actually do it, even among an ed-tech attended event. I feel often the lonely tagger about 75% of the tagging, sigh.
That was always baffled me. At one time I combed through the flickr and del.icious tags at both an NMC and an EDUCAUSE conference, and (damn I cannot find my own ol blog post) recall that the percentage of participants tagging was like 2 or 3%. I never did find any tool to tell me in these services how many people used a tag, I did it by paging through content and writing numbers on paper. That is so Web 0.1.
But back to the NMC conference.

There is a problem with conferences you help organize, especially if you are a small team like NMC is- you almost never get to sit through sessions, and even when you are, you may be troubleshooting, preparing, or just making sure everyone else's experience is good. I got to sit through one full regular session this time, and certainly there was little time for blogging or even tweeting. I noted i tweeted more from one night of a baseball game in Baltimore the following week than the entire week of NMC.
This is not to say it was not a great experience, but I spent my time just talking to people, helping them connect to each other, and the occasional emcee duty (for comedy see the closing keynote where Princeton host David Hopkins invited me to the stage, and watch confused Alan who neglected to review the scripts walks up and slowly realizes he is supposed to introduce Henry Jenkins).
In hindsight, I give myself low marks in setting up enough web 2.0 coverage of sessions. I'd like to try and arrange next time a more organized approach to recruit participants to perhaps live blog, e.g via CoverItLive or similar stuff. I really loathe a conference that does not leave a lot of tracks on the web, and the task this week is to nag presenters to go back to the NMC site to attach resources and links to their presentations (not to mention a lot of video to post).
One tool that failed was this nifty site I used for the 2007 conference called attendr which provided an interface for people to pin their location on a google-map, and then add descriptor tags to their entry, for example, listing their interests in ed technology. This provided a nice tag cloud for connecting people–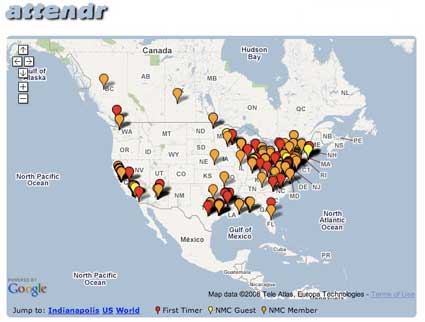 It worked nicely for weeks leading up to the 2008 conference, and there were about 40-60 pins without me having done anything except add a page to our conference web site. But about 2 weeks prior, the site went completely belly up, with all URLs returning:
I gave it some time, but it failed. I even did a whois lookup on the domain to find the site owner, sent an email with a question if the site was alive, but never heard back.
So what to do? Punt? or do a reverse.
So I quickly set up a Google MyMap, and set it to anyone could edit and it was fun to see the different ways people identified themselves, some 57 managing to figure it out:
It was not without problems. There were a few wayward pins stuck in the map. One person tried to add herself, but edited by location instead. And someone else mis-understood the interface, and rather then adding their own pine, changed the name of the map and the description to be about them.
It works, but takes a little gardening. With the event ended, I have since removed the open editing of this map, just to keep it as it is.
The bigger flop was twitter.
What else is new?
I was impressed with how much action there was at at the 2008 ELI annual meeting, where they set up a conference twitter account, which in turn followed conference attendees, and large displays around the venue showed the current tweet action, of which there was a lot. So a few weeks prior, I set up an NMC2008 account, and we emailed conference attendees to follow this account; and we then in turn would follow them, so the account woukld aggregate conference tweets.
At the conference site, we were able to get one large display set up with a TwitterCamp application, which did work well:
And we had it following 76 people. So thinking we were set to aggregate tweets, I set up an RSS feed display using trusty old feed2JS.
It came up empty.
The I looked at my conference twitter account on another web browserm when I was not logged in.
There was no "with others" tab, no way to see the tweets of friends of NMC2008. WTF?
In the land of web 2.0 apps, there are arbitrary changes. On June 4th, twitter yanked the with friends tab and its feed:
Recently we made a change to remove the With Friends tab from user profiles. We did this after finding out that this tab was both a relatively rarely accessed as well as computationally expensive page for us to serve.

At the same time we removed access to the feeds for this page. It's still possible for users to receive their own With Friends timelines, but authentication is required. What we did not anticipate was that some users were subscribing to these feeds in readers. Most readers do not support authentication, so the feeds that these folks were subscribing have since broken.

It's our hope to bring back the access to these feeds at some point. But for stability reasons, we're unable to restore them at this time. We should have done a better job explaining this up front and anticipating this problem. Apologies for this; it's our highest priority to provide a reliable, stable service for everyone.
What bullshit. "relatively rarely accessed" where's the proof? And this action was in direct contrast to a part of their knowledge base that specifically promoted the use of twitter to create aggregated feeds from conferences:
http://help.twitter.com/index.php?pg=kb.page&id=77
which, oddly enough, after I filed a complaint, this URL is suddenly broken. Hmmm. Smells like…
I was there at the conference trying to find a end around. I toyed with a widget that was supposed to display friends timelines, but it never delivered the action. I could have tried a hash tag but it would be hard to get the word out. And honestly, I ran out of time and energy to make it work. It smells really fishy since the API still allows this function, as TwitterCamp worked as expected.
So while I flipped a big giant bird at twitter for yanking a service for fuzzy reasons, what can I do?
Punt.
It was not essential to have conference tweeting, yet people still went at it like good citizens. We just failed to aggregate it nicely.
You can either sing the blues when Web 2.0 borks on you or just do something else. It was small on the scale of people's experience at the conference, and my focus was on the audience there.
But bleep you twitter, all the same, I lift my dog leg and pee on you.