Perhaps your head is exploding with all the new stuff coming out of every electronic orifice. It might be useful to consider how you go about getting your dose? Maybe it's RSS, it might be clicking every link shared by a Jedi master, or slogging through the plaff of twitter, heck it might even be from a magazine.
I have a technique that never fails to give me a lift (when it works), yet I can hardly claim it is reproducible. It's equivalent to kicking over a rock when hiking just to see what might be hiding underneath, when you find something cool (or just as not, squishy) in an expected place.
For a while I have been saying I should keep track of all the useful or interesting things I have found online by sheer serendipity. The best part is the surprise factor, and that it is very likely something that is not in everyone else's news feed.
One source that works occasionally is scanning the links people put in their e-mail footers. Sure mostly it is their blog, or their company, or their math department.. but quite often people put links in their footer to something they are truly passionate about. When the listservs I read are dull, I scan the footers.
The one I can remember is someone on the Second Life Educators List had a link to Free Rice, a fun site that offers a multiple choice quiz to identify the meaning of a word: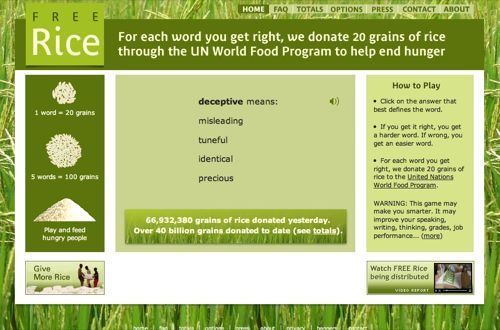 For each word you get right, we donate 20 grains of rice to the United Nations World Food Program.
Okay, 20 grains is pretty small, but spell a lot of words right and…. But its a great concept that ties together two unrelated goals (getting "smarter" and feeding the world) in a clever way.

The other thing I do when looking at people's web sites, especially blogs, is trying to figure out all the widgets and tools hung off the edges. Not to necessarily clutter up my own site (which needs no help with clutter), but sometimes you come across an interesting web service or tool.
Last week I was reading Beth's Blog about A couple of really refreshing and practical posts about using Twitter where she was describing the blog of ", AJ Vaynerchuk 'a 21 year old blogger who also dabbles in social media, marketing, and SEO.' (boy was I dabbling in the wrong things at 21)… but out of curiosity, I peeked at his blog. First I was interested in his use of the Travelogue WordPres template. I had used an earlier version (hacked up too by be) for my I hate Running Blog.
But then for some reason I noticed a tiny link in the bottom cornered labeled "Get Clicky".
I got curious.
And kicked over a rock.
And found Clicky a really awesome web stats package! I am testing it out now on CogDogBlog (and getting depressed at hoe short people visit here; the average is 2 minutes! Wow I am that interesting). and on the NMC web site as well.
We'll probably end up getting a license for NMC, it just blows the doors off of other stats packages, including the one by that little company whose name begins with a "G".
I would have not found this without looking around, peeking in the source code, etc.
One more.
I monitor links to NMC's work with a few RSS feeds from Technorati and Google blog searches. I was looking at some Spanish language blog entry that linked to our just published summary of an NMC survey. First I frittered around trying to get Babelfish to do a reasonable translation.
But then I noticed the little icon at the bottom, which looked like en embedded version of the PDF document we published. This widget was animating flipping pages that looked like miniature versions of the document and a few buttons. Hmmmm I thought, might be some new way of embedding documents.
And then I landed on the site it came from — issuu which I am seeing is sort of a mashup of YouTube and Flickr for PDFs.
issuu is a living library. Upload and share the web's best publications and get recommendations form your friends.
Its language revolves around sharing "magazines", like Great Lakes Boating August 2008 issue– it is rich graphics, the pages flip when you turn them, you can zoom in and pan, etc: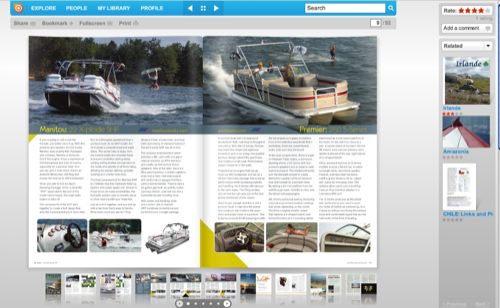 On the right side are "related issuus" (like YouTube does). And the lower part looks a bit flickr-ish with comments, plus some embed code options.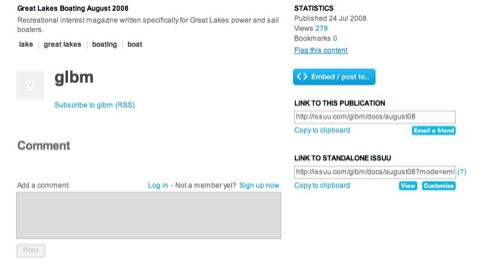 So you can embed this boating magazine into your site (no thanks). But it looks like you can mark issuus you like (favorites) in a library, and I expect there are some recommendations or FOAF stuff woven in there. And there are tags! And on the main page are some categories to explore, one of them is "Portfolios" -not really "ePortfolio" stuff, but visual records of some rather nice art portfolios, say this example from Chris Bergman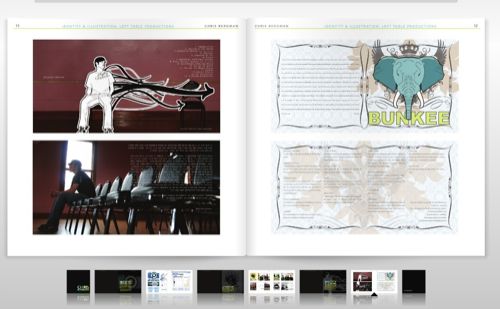 Its visually well done as a site and seems to have some of that good web 2.0 formula of giving something of value to individuals and then added bonus when you mix them in a bigger pot.
My visit to issuu was really brief, but it is now registered in my mind, and I found it merely with some curious clicking, rock kicking.
I have no idea if other people do this- if so, what have you found that rocked the house?