I can agree with all the positive acclaim for the archive of Life photographs Google is hosting. It is a vast archive of important historical moments.
What is striking me odd that is not strictly mentioned on this site is any statement on usage of the images. I looked high and low, and I am rather perplexed that such a collection would overlook something I have found front and center (or footer and center) on every other photography or art archive online.
After my cursory research this is what you can do with this site:
You can search or browser for images using the Google interface.
You can look at the images.
You can buy merchandise related to the image.
You can (guessing) provide a link to the page holding an image
And that is it. Everyone who is embedding copies of these images is violating copyright. It is not clear if you can use an IMG tag in your own site that references the Google hosted one.
There is no statement of copyright beyond a © Time in the lower left and a @copy; Google in the bottom. It's not clear who is copyrighting what, but would guess Time owns the image (so you will hear from Time's lawyers) and Google is copyrighting their web page.
There is certainly no Creative Commons anywhere here.
Google has tags for finding the images, but you have no ability to tag anything yourself.
As a summary, I have this copyright violating diagram of a Country Doctor a typically expressive Life photo by W. Eugene Smith: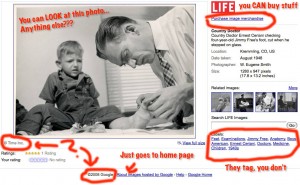 I tried first on that link "About images hosted by Google" and it just plopped me back to the entrance page. That is a really strange way to provide an explanation of the site.
I finally got as close as I could get to a terms of use in the "Help" section:
What can I do with the images I find from the LIFE photo archive?
You can browse and view the images you find, rate them, and see detailed information about the photographs. There is also a link to buy image merchandise provided by LIFE.
Yep. You cannot download them. You cannot stick them in your PowerPoints. You cannot embed them in your blog posts. They are 100% totally copyright locked down shut. It is not clear on linking.
Which is not really gonna stop people (case in point).
There is no actual detailed terms of use here (were the lawyers out playing golf on the day they designed the site?).
Perhaps I have overlooked something and someone with better insight will show me the errors of my ways.
I would want to know these things before gushing any more about how Great a Thing This Is. As is, they have replicated a magazine file cabinet that you can paw through, but don't get your grimy fingerprints on the collection.
So excuse me if my joy is tempered. I may come back some day to just mosey around, but my kind of content I will pay attention to is open or if not, clear about it.
But at least I can buy a framed version of a locked piece of media.