I certainly have little interest in returning to school for more formal Edukashion, but if I did, I think I'd go back to 5th grade over grad school.
Following up on a recent connection to Chrissy H's class in Bangkok, yesterday I had another opportunity to view an active elementary school classroom through my Skype window. This time I connected with Brian Crosby's energetic class in Reno, Nevada. I enjoyed meeting and hanging out with Brian in Shangai a the Learning 2.008 conference, and he is one bundle of energy himself- Teacher Ed programs may want to sign him up as poster boy.
This works out well because in 2 weeks I am visiting with some of his district's leaders. Washoe County is the NMC's first school system member and are on to some really innovative stuff. This looks like one of those trips they invite me in to give them some pseudo expertise and I leave with maybe learning more than they do. Since I have some time before the first meeting to visit Brian's class, we thought it would be fun to greet the kids from Iceland and then meet in person.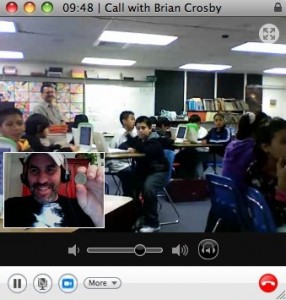 Oh and how they peppered me with questions about Iceland, of which I could answer perhaps 25%. "What's the weather like?" and "What language do they speak?" were easy. But then, "What do kids do there for fun?" But then out of my bounds were "What do the kids do for fun?" "Do they have McDonalds and Burger King" and "Do they have Xbox and Nintendo" "What cartoons do they have?" and they were firing them off rapid fire. I told them a bit about volcanoes waterfalls, geysers, food (they asked about the "nastiest food came across- I have not tried it but mentioned that I have been told they like dried shark). In the snapshot above am showing some money, and will bring them some coins.
The crowning question was about if their toilets worked like ours ;-) You have to respect unabashed questioning, a trait drilled out of us by adult hood (I tried best to explain the two button flushers).
These types of things are so easy to do, the technology is easy (f the tubes are behaving), and no major planning is needed.
Brian is an experienced in Skype connecting classrooms and loves sharing his enthusiasm. Imagine if every one of us spent 20 minutes a month visiting a different school classroom around the world. Kids at that age are curious sponges, and their excitement is certainly contagious.
UPDATE: Just a few weeks later I got to travel to Sparks and visit Brian and his students. This was one of my favorite experiences ever.