In my everyday technology browsing I see a fair number of interesting tools, sites, ideas, that come my way via RSS, twitter, etc. A lot of them I give a quick look, say "Hmm", tag 'em, and move on.
Besides almost every post of unbelievable wizardry and in depth explanation of Tony Hirst, not often are there things that just knock me over breathless. Maybe I have been drinking the Web 2.0 Koolaid for too long.
I had one of those "wow" moments tonight with something that came out of the blue. I'll share it all, and am curious if my excitement is misplaced or not (would not be the first time)
Like many others, I have had my "Wordle Moment" which is another example of this phenomena. The stunning visualization effects of making word clouds out of plain text is nothing short of astounding, and it not your grandfather's tag cloud.
Beyond a few plays with it like many people do, it's been more fun than function (nothing wrong). I did use it just yesterday to create a graphic banner for a new site related to tagging. But I thought Wordle took it up a notch when I saw how you could have it generate a cloud based on an RSS feed:
The thing tht caught my eye my there was the prominence of "Tigger" over "Eyeore" because in that week I had one post about these characters and two more piggy pack posts echoing.
But that was also the last time I ventured down to Pooh Corner in this blog, which prompted my to ponder in that post:
The uber nifty Wordle tag cloud generator now can take any URL that has an RSS feed and generate one of those lovely word maps of content.

Here is what the latest blabber from CogDogBlog has in it- heavily weighted by my serious examination of the Pooh- Eeyore Debate.

What would be cool is to grab a time series of these to see how word use changes over time.
And way down in the comments, Jason Priem mentioned he was working on some code to generate visualizations of tag clouds over time.

Well he just followed up and shared this amazing app/site- FeedVis– which watches a list of sites with RSS feeds (via an OPML file) and tracks the pattern of word use over time: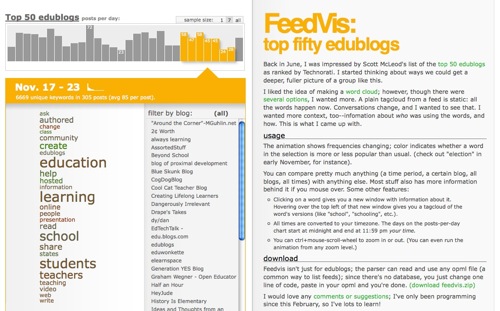 or how his site describes it:
I liked the idea of making a word cloud; however, though there were several options, I wanted more. A plain tagcloud from a feed is static: all the words happen now. Conversations change, and I wanted to see that. I wanted more context, too–information about who was using the words, and how. This is what I came up with.

The animation shows frequencies changing; color indicates whether a word in the selection is more or less popular than usual. (check out "election" in early November, for instance).

You can compare pretty much anything (a time period, a certain blog, all blogs, all times) with anything else. Most stuff also has more information behind it if you mouse over.
The example he uses is a list of top 50 edublogs Scott McCleod listed from Technorati. Once it loads (there is about 45 seconds or more to do this), you see an aggregated view of tags used by all over 50 blogs htat you can see in different time slices; maybe there are trends there.
Or you can examine blog in particular… say mine! and see how my use of words changes over time: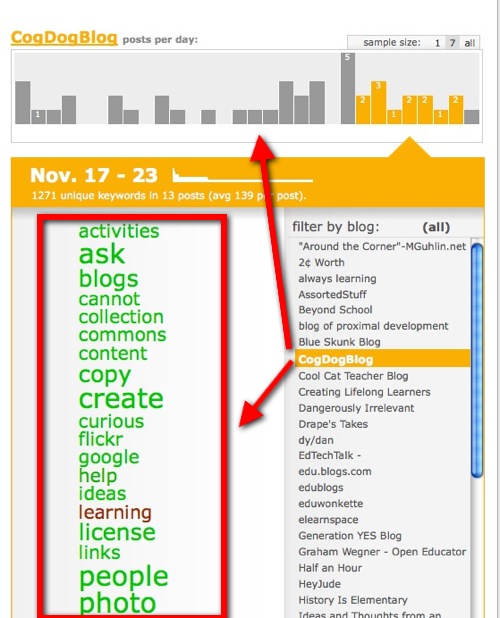 And is more than just seeing tags change in size or color; when you mouse over one, it gives a measure of your use of a word compare to the aggregated whole:
And then I can compare my tags to others in the same time period, say Dean Shareski: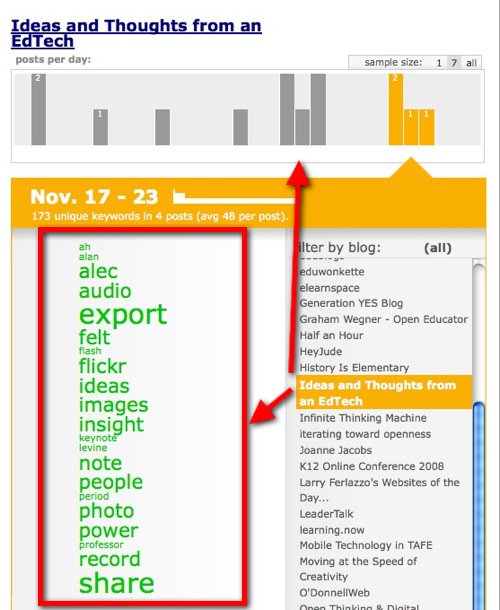 or David Wiley:
And more than just this coolness- Jason is giving away the code! You do need your own server to run this, and best with an ability to run cron scripts, but am already thinking that this would be a great way to assemble the feeds we collect on emerging technology for the NMC Horizon Report.
I am just intrigued about this approach to looking at patters over time- a movie is often better than a snapshot.
Is it just me or is this way way way cool?
FeedVis rocks! Thanks Jason…