Wow, the new interface for Google Maps Streetview is very slick! It fills the entire map frame, and you get a spinny controller (like in Google Earth) to rotate your view, plus drag and clicking the mouses gives a tilt-pan effect. So you can zoom down streets! I decided to pay a visit to the house I grew up at in Baltimore (I have blurred out the location and street name; the present occupants deserve some privacy).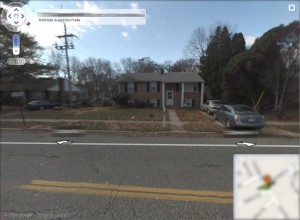 Fortunately they have painted my old room, but I did zoom in and see where I had carved my initials on the underside of the side steps (just kidding).
I sure do not miss racking leaves or cutting grass, but there is where I lived until I was 18. I took a drive past my elementary school, and up through some old neighbor hoods, and did not really recognize much.
Now the notion of moving through a map and really seeing what is there (or what was there when the Google-mobile went by) is something I would never have imagined even a few years ago. Does it turn the world into a peepers delight, or does it afford a way to explore different places and really see that they look like buildings, houses, parks, and not just lines and icons on a map. A map is but a representation of the world, and a photo map adds an interesting layer of information on top of that.
I do find it limiting that the Street View is limited to where they can drive the car with the ball camera on top– I keep wanting to be inside parks, peeking down a slot canyon in Utah, or looking at the Sydney Opera House, but you can only see where they have driven.
But I love the new interface…