JamStudio is a nifty online music mixer where you can compose and publish your own tunes. You put music keys on the score, select instruments, set tempo, etc: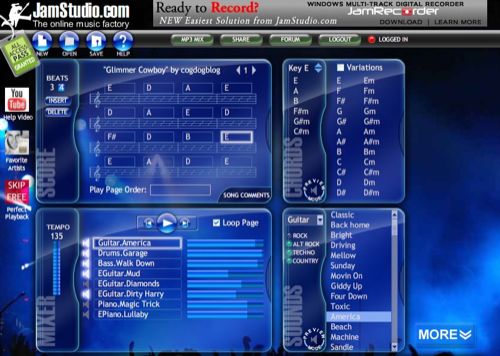 You can create multiple "pages" of music; I just played quickly to create two "originals" (hah, just quick futzing around):
Cowboy Glitter [448k MP3]
Rain on the Road [568l MP3]
See this video for how it works:
You can play around with it for free, to save as MP3 (which are emailed to you as links), you have to get a $10/month account, but there is a 10 day full feature trial period.
However, I did notice at the bottom (which ugh is flash, so you cannot copy text to paste as a description), they offer free accounts for teachers and students, which might be a useful for schools lacking music instruments??
Wanna Jam? You can do it w/o any music knowledge, as I can clearly demonstrate my lack thereof; if you have some, you can do a lot better!