I've already waxed on the demise of the television I grew up with.
So long.
I just finished watching a funny episode of the Simpsons, but my TV is still off (actually it gets no reception); I watched Mypods and Boomsticks on Hulu which in true form, poked some fun at "Mapple", it's "MyPods" and CEO (using an underwater Jeff Han-like interface) Steve Mobs: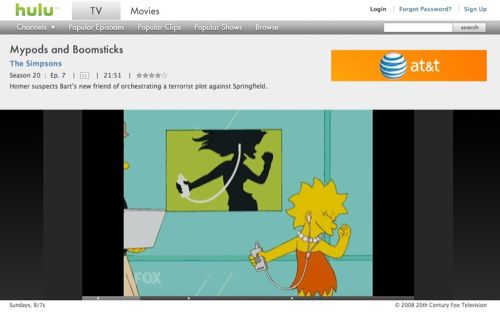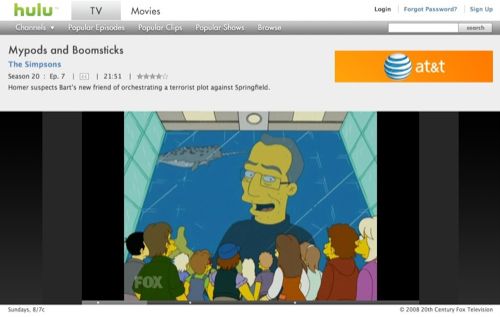 This is hardly new, as hulu has been around a while, and there are plenty of sites to watch full shows, etc. But can you imagine the inner panic at the network television empires? Their era is gone. Over. Kaput. Adios.
Yes, I know hulu cannot be seen out of the USA (I experienced that black screen in Iceland).
And the AT&T ads are super cheesy annoying, but they are only 15 seconds. Maybe there is a Greasemonkey Tivo.
But as far as I am concerned, the control of television networks is gone. I do not even need their devices. This is not to say I will start watching a lot of content, but I am intrigued as the disruptive nature of the net ripples seismically through the establishment.
This is just the beginning.
If you want to watch, below the fold is the embed (you cannot do that with your television set, eh?)