Maybe a flickr easter egg, but you cannot find this site from flickr's explore, so check out the Flickr Clock. It presents a timeline of flickr videos: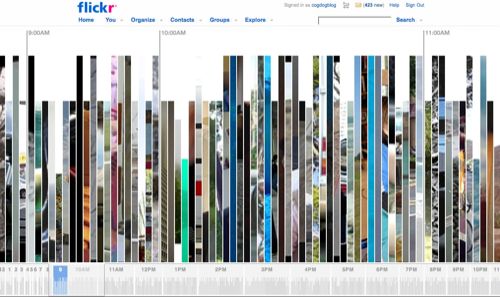 It may take a bit long to load as it seems to be hitting the flickr api pretty hard.
So find an interval in time, and you can explore someone's flickr posted video. It's an interesting interface, the slits expand to play a video: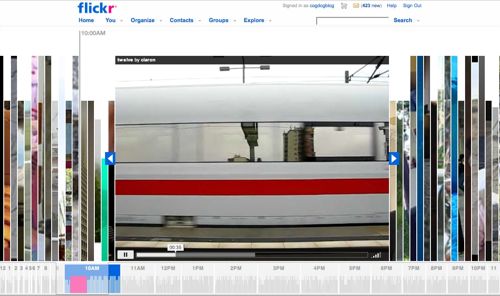 But what is interesting is that if you use the blue buttons on the right or left to navigate in time, the next (or previous) videos will launch and play automatically, so you could just set this up and take a sample of people's various videos from around the world, from drives in traffic or the train, to sunsets, to quirky sing alongs. I stumbled on a neat time lapse of a highway commute
They are rather variable in (ahem) cinematic quality, and is more a look at everyday life that people choose to share than being mini Sundance epics..
It appears the videos are plucked from the flickr clock group, and then put on the timeline: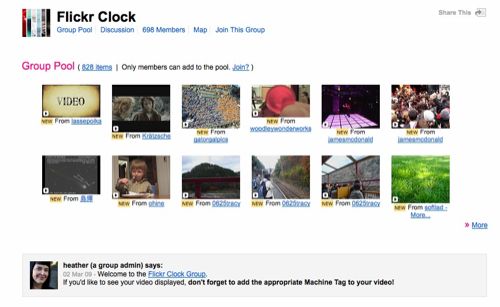 Flickr Clock is an ongoing project that will collect member video and display it according to the (approximate) time that it was taken. As more members participate, we'll have the opportunity to experience what a moment in time looks like from a diversity of perspectives.

Help us build a clock that celebrates the Flickrverse — in how, despite our borders or geography, we're very much the same and uniquely different.
The time is posted via use of a "machine tag" to identify the time– first time I heard about machine tags that apparently provide hooks for doing third (or first in the case) party apps with flickr media (hey, just dream of this happening on stingy facebook) and woah, neo, there are ways to do wild card characters in these tags and related searches, what happy serendipity to find a new nugget of flickrness.
More on machine tags as it was announced in the flickr api discussion group (its a good sign when a web app can use itself to talk about itself):
"Machine tags" is the technical term for the extra hamsters we've added to the Flickr servers to formalize how these sorts of tags are treated. I've included a "Ceci n'est pas un FAQ" below with all the details.

For the moment, machine tags are principally an API "thing". The photo pages have been updated to display tags a little differently but otherwise all the magic you can perform with machine tags happens here at the API layer. (This includes the special wildcard syntax for searching photos with machine tags.)
From my quick read, individuals can define their own machine tags to do whatever they want. This kind of thing could be explosive in the hands of a wizard like Tony Hirst… (ping ping rings the web doorbell).
After 5 years, flickr is still the best place in the web2iverse. Please Yahoo, stay in business!