Since it has been on going for almost as long as I have been in the ed tech field (going back to 1996), the annual Technology, Colleges and Community conference feels like a regular part of the changing seasons. This annual online conference may be the longest running international technology conference (I am sure someone will find an older one, go ahead, please)
I cannot remember if I started participating in it maybe in 1999 or 2000 when it was really a discussion forum based. Since it has always been based out of the University of Hawaii, it was often called the "Hawaiian" virtual conference, which meant the only umbrella drinks on the beach were in your mind.
It was at a 2003 League for Innovation Conference that I first met in person Bert Kimura, who got me more involved by getting my then employer, the Maricopa Community Colleges, on board as an institutional participants, meaning for a reasonable fee, we could register anyone in the system to participate at the conference, so our office could offer it internally for free.
Since then Bert has become a good friend and colleague; we hiked together when I was in hawaii (for real) for the 2005 NMC Conference and I spent a week at Bert's home last September during my visit to Japan. It is these real connections that have always made the online networking really pay off.
In 2004 I did one of my favorite presentations for TCC on photoblogging, Publish and Build Communities Around Digital Images.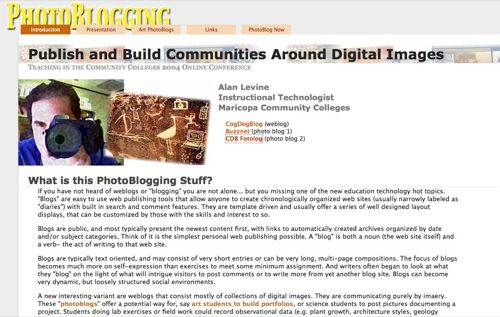 I had worked with an art teacher that had his students use photoblogs for sharing and discussion their graphics work. At the time, I was really positive about a now relict service called Buzznet and what was maybe a more active, and much more international service, Fotolog (and what do you know, my photos are still there, 5 years later!). The other key event was I started also looking at this new service called "flickr"…. and you know the rest of the story.
The memorable part of that TCC 2005 session was where I presented. After committing to presenting, I realized I was going to be in San Francisco for a project meeting (this was for the beginning of the NMC's Pachyderm project). The conference then (and now) used Elluminate, so I was standing in the hallway of a hotel, outside a conference room where the meeting was going on, using the NMC wireless hub, perhaps looking like a strange peson talking into a laptop… the funny part was when some other meeting room opened up, and all of a sudden the hall was full of people talking loudly, jostling, and I think the TCC participants could hear the sounds of the toilets flushing from the rest room I was near. My colleague Cynthia Calongne seems to think this was inspirational (she herself has been a regular outstanding presenter at TCC).
Yet, my favorite presentation at TCC was the keynote I did in 2005, Harry Mudd, Small Pieces, and that Not Widely Distributed Future where I tread to weave a picture of the future using that nutty pirate from Star Trek and Wired Magazine's "Wired, Tired, Expired" theme (which itself is not expired) to talk about what the future of technology looked like in 2005. Ironically, it was in prep for this conference that I first came across this person at Penn State University named Cole who was doing some interesting things by grading online student work on an iPod.
The other keynoter that year was some woman named "Clinton". I think she was married to someone of importance.
Today's entire, now rambling blog post, came because I thought of good old Harry Mudd last night when I got the TCC notification for the conference's launch today. When I got nostalgic to look back at my presentation, I realized by link pointed to materials that were sitting on an old maricopa server in an archaic wiki format (UseMod) which was not even working anymore.
I knew this was not a major problem, since I always store my source materials on my backup hard drive, and I found not only a folder of the images I had used, but also a document that was my speaking script (that must be the most organized I ever was, it has time estimates per slide).
So it was with very little effort, just some cut and paste for the captions, to post this presentation as a flickr set:
with notes as captions… and all which then plays pretty with CoolIris.
Too bad I later thought last night (plus it was late, time for bed) as I had no audio. But I did! Searching my own blog, I found I had recorded my audio using a small MP3 recorder– I was able to find this because I have my own personal record of what I have done since 2004- this blog. I found the post I made after the presentation. It also seems to still be in the LearningTimes archive.
Anyhow, this was the longest pre-amble ever to say I am excited about this week's TCC Conference. Especially rewarding is that this year's keynotes include two innovative people that were on a list I had suggested to Bert as keynotes– both are woman (my belated Ada Lovelace birthday gift?) and both are from outside the US. I am looking forward today to listen to Sue Water's keynote on "Global Collaboration in the Web 2.0 World" and tomorrow is Barbara Dieu speaking on "Interacting to Learn and Learning to Interact".
So while April showers may bring flowers (actually we are expected to have snow this week), it also brings a great online conference every year.