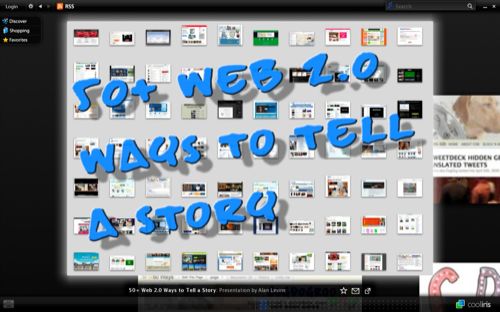 Today was a full on day at the opening end of a 2 week road dog trip around New England. Yesterday I flew into Newark, and did the train into New York for today's fantastic experience at the Annual Symposium on Communication and Communication Intensive Instruction at Baruch College, thanks to a generous invitation form Mikhail Gershovich to be a workshop presenter.
Today's events deserve a full blog post (hopefully coming next), but this was the first in a series of re-presenting 50+ Web 2.0 Ways to Tell a Story, which I am a bit worried as becoming one of these road show presenter types as it will be 2 years old in July. But there is some new life; A few tools are retired (JumpCut, Zude, Flektor, Thumbstacks), but added even more- PhotoPeach, Tikatok, Tar Heel Reader, Pixton, and the exciting and first and maybe nauseating later– prezi (I am happy with my prezi ;-). There are new examples thanks to people who commented here and there, so layout cleanup, removal of examples with dead links… and the big one was recasting the presentation part for today as a CoolIris version — http://cogdogblog.com/stuff/50ways.
Today's audience was really energetic (and I had to keep dismissing people's apologies for attending other sessions– its not personal to me, and I would have actually preferred to be in Gardner Campbell's session).
I'm giving thought to some really good questions today; some people wanting to see more educational examples (me too, please share); a little of the whip lash deer in the headlights look I saw, the oft repeated desire to hear more about some assessment of which tools are "better". At the same time, many people as usual were very positive, one gent talked about how there would be one less person inflicting bad powerpoints… so I am checking my normal reflex to focus on the negatives.
At the closing session, the five afternoon workshop presenters, including myself, were invited up to the front of the room. Jim Oswald, a graphic facilitator for the event asked each of us presenters to give a "30 second" synopsis to the larger group, after which people in the audience in our sessions were asked to share their takeaways from our sessions.
This plays into the whole Symposium theme of asking about "the Audience"; and in many ways this was a bit frightening to see what people might say (nor not say) about your session. When you present, you just make some off the cuff guess as to what people walked away with.
But a huge highlight was the enthusiastic response to the part of the workshop where I ask the audience to toss out stream of consciousness suggestions for a possible story based on a prompt I made up, usually something locally relevant. Today's was, "I Saw The Most Interesting Thing Happen on the Number 6…" referring to the local subway. It struck me then that there is no need in New York to make up wacky subway stories since there are so many real ones.
This group ran with it like I have never seen. The series that got tossed out was (and this came from them, not me)…
A nun and a fireman are making out on the subway.
Besides the storyteller and the couple above, the subway car is empty– except for a chicken which is pecking at the boots of the fireman…
(for the introducing conflict)… the doors open and a bunch of school kids enter.
I stop it there, because the point is just to have (the audience) participate and just try thinking on the spot of something weird, funny to make into a story. I told them that finishing the end of the story was a homework assignment.
How would you end it?
I may not blog the rest of the day, but the total highlights were the mix of people drawn to this event, both academics and business people, from several of the CUNY schools, and people who came in from other parts of the country, and a number of interesting people in the private sector, all to chew on the theme of "Audience"
Our discussion on will revolve around the theme of "The Medium is the Audience." We will approach the broad topic of "audience" in a number of different ways ranging from exploring how electronic media have changed our conception of what and who an audience is, to considering how the needs of an audience shape what constitutes effective, purposeful communication. By the end of the day, we hope to have generated many concrete, useful ideas, activities, tools, and approaches to fostering effective speaking and writing in the classroom and the workplace.
Twitter was fairly prominent here, and it was great to add follow some new names and meet up some that previously were just @'s in my cerebrum.
Kudos to Mikhail and everyone on his team at the Bernard L. Schwartz Communication Institute.