cc licensed flickr photo shared by The Pug Father
LMS. CMS. LCMS. La La La La La. Will they be toppled by a Wave?
I feel rather blessed I have not had much responsibility or even been inside a Course Management System for a looooooong time. I aonnot say I find them inherently evil, but more inherently stupid. It's been a while since I ranted on it, but after all this time the mere fact that the main organizational unit of a "learning system" not being the learning, nor the learner, but the course– is just plain programming design laziness It's done that way because it is easier to put learning into neat mailbox slots, ones that can be tidily emptied at the end of a term.

cc licensed flickr photo shared by Dean Terry
The concept reminds me of the specious things very common n Phoenix called Master Planned Communities. This are housing developments of factory stamped homes, surrounded by walls, and fronted by a security gate. Residents agree to live in these places and not violate the rules by painting their homes from a non-approved palette or using unofficial roof shingle or not even putting a bench in their front yard (this was a news story in Phoenix a few years ago). People in these places walk around and spy on their neighbors to report acts of non conformirty.
I cannot really associate any sense of "community" in the real world like this except for the WG kind (Walled Garden).
The sheer irony of Course Management Systems, and my own minor guilt, is that I had a hand in ushering them in to the Maricopa Communty College system in the late 1990s. I saw these new things coming out (remember "Web Course in a Box"? Yep. Ms PacCMS ate them long ago) at the same time I was seeing the futility of thnking faculty could author their own web pages (I tried to shine a light). These early systems had a lot of potential, I thought, for teachers to create web spaces for learning through a simpler interface. Had blog software been there, I would have gone down a different path.
And in those days, the people making Course Management Systems were these young hip academics coming out of Cornell and University of British Columbia. They were the precedents to Web 2.0 entrepreneurs. Heck, I once even managed in 2000 to get Matt Pitinsky (then Blackboard CEO) and Murray Goldberg (then WebCT CEO and founder) to speak head to head at a Maricopa Ocotillo Retreat. It was actually rather civil, and they agreed with each other more than disagreed.
Fast forward to know, where these companies company seem woefully short of user admiration, maybe even hated on campuses more than the Redmond Orcs. What an accomplishment. The best attribute they can claim over the Open Source / Small Pieces Web 2.0 Joined approach is… "a gradebook".
A gradebook.
What an expensive and unwieldy gradebook.
Last February, I attended an WordCamp-ed in Vancouver, and was pleasantly startled to see (a) so many people show up; and (b) how many were from places setting up institutionally serving instances of WordPress MultiUser, something un heard of a year earlier except at a few bleeding edge schools. The discussions skirted into infrastructure, management, identity, and I recalled having a brief tinge of deja vu that I brushed off.
No, Clover, it could not be happening.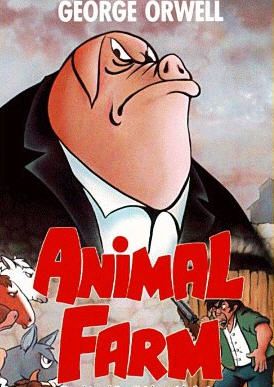 I am not saying that WordPress is the…. the… (I am not going to use the noun) "farm resident" that are moving into the Big House, but what an creepy thing that would be.
It was a source of great satisfaction to him, he said-and, he was sure, to all others present-to feel that a long period of mistrust and misunderstanding had now come to an end. There had been a time-not that he, or any of the present company, had shared such sentiments-but there had been a time when the respected proprietors of Animal Farm had been regarded, he would not say with hostility, but perhaps with a certain measure of misgiving, by their human neighbours. Unfortunate incidents had occurred, mistaken ideas had been current. It had been felt that the existence of a farm owned and operated by pigs was somehow abnormal and was liable to have an unsettling effect in the neighbourhood. Too many farmers had assumed, without due enquiry, that on such a farm a spirit of licence and indiscipline would prevail. They had been nervous about the effects upon their own animals, or even upon their human employees. But all such doubts were now dispelled. Today he and his friends had visited Animal Farm and inspected every inch of it with their own eyes, and what did they find? Not only the most up-to-date methods, but a discipline and an orderliness which should be an example to all farmers everywhere. He believed that he was right in saying that the lower animals on Animal Farm did more work and received less food than any animals in the county. Indeed, he and his fellow-visitors today had observed many features which they intended to introduce on their own farms immediately.
ALL LEARNING SYSTEMS ARE EQUAL. BUT SOME LEARNING SYSTEMS ARE MORE EQUAL THAN OTHERS
I am just playing this out as a metaphor, not claiming the WordPress will be the pigs walking on hind legs drinking beer with the Farrmer.
Nope.
But should the Farmer be replaced or die what would happen down on the farm?
Post script- I wrote this post in ecto the desktop blog editor than can post to many blog platforms; I used to to write most of the post while on a plane. I'd not used it in a few years, but like its ability to compose, preview, and use many other nifty tools (e.g. a url copied is automatically inserted into the right field when you use the link tool)