It's possible there's more out there than I know, but I see social media apps that offer great models for connecting people with similar interests, but wonder where is that for education? Today, I came across Micro.Vois— a simple idea that seems elegant, built on (what else these days?) twitter

click to see full image
It simply connects people based on hashtags in tweets to connect freelancers with people who might have work, or people looking for freelancers. So if you are needing, say, a CSS guru or a 3D animator, you just tweet something that has #havework, and if you are someone with skills like Flash Programming or Game Design, you tweet #wantwork, and Micro.Vois tries to put them side by side.
This is compelling because (a) it is simple, and (b) the "posting" can be done in the flow of your regualr twitter communication (which we all know everybody does these days, right?) Yes, it means not having to create another account at some other site, log in, etc to engage in matchmaking.
So I wondered– what if someone created a Learning.Vois? People who have knowledge skills to tweet might send messages with #haveknowledge and people looking to learn something specific can tweet #wanttolearn (note- this is a total mockup, don't go looking fir it til TechCrunch sez it's so..)

click to see full image
Now this may not really be a fantastic idea, but I am more after the probing of why academic dont get out of their vertical silos and leverage these channels. Or they can wait until it gets "integrated" inside some "safe" "secure" closed wall LMS. Bleccch.
I speculated a number of years ago what might happen if educational organizations used some sort of Amazon.com-like recommendation system– e.g. "People who liked Newtonian Physics also did well in Laplacian Transformations" or "25% of people who registered for ENG 101 also signed up for Art History 159" or "Students who successed in Political Science 212 also achieved top grades in Sociology 322".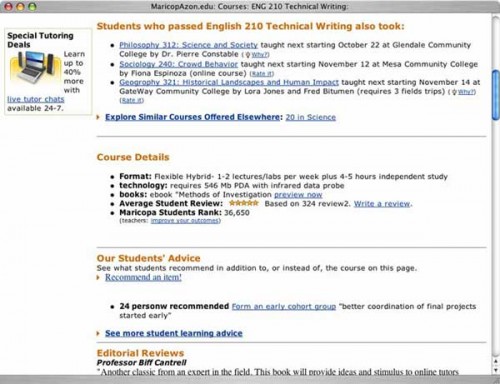 Actually I have seen a little of this at the Open University– Tony Hirst has sharing some info about a course he taught and there is s spot that says "Students who studied this course have also studied at some time:" with a linked list of said courses:
Yet in continuing to think about data– Universities (and colleges and welding schools) have information sitting inside their vaults on course offered, when they were offered, numbers of students who took them, even performance information (e.g. grades- detach from IDs of course), which this links out to other courses people have taken offering all kinds of analysis, linking, visualizations… all of this data, data, data, sitting idly, doing nothing.
Not a web of data happens in education, we are a few isolated locked cupboard drawers.
Ain't much 2.0 in education at all. It's been 1.0 for 100+ years.