Randomly surfing flickr for photos for a new video project. Sometimes, when I find a photo (usually via a compfight search) i like that's part of a set, I look at the whole set.
On one today, I found it was generated automatically by something called Flickr Set Manager:
Flickr Set Manager allows you to automatically create new sets on Flickr based on various criteria such as interestingness, date posted and tags, or even from a random set of photographs.
This sounded… hmmmm… "interesting"? I was thinking of creating a set of my favorites, but with this tool, I can let flickr decide- just based on its own interestingness filter of my own photos, this tool created this set for me: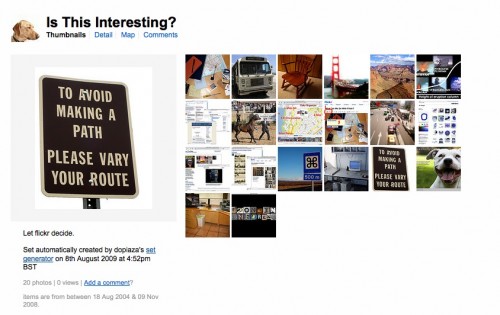 Those were not so surprising- the ones that get a lot of comments.
I tried the "least interesting" option, but they were all pictures of me ;-)
Then I tried most interesting again, but limited it to ones tagged 2009365– my photo of the day project– now this is useful as it may suggest what photos I am taking are seen/commented/ etc by others — http://www.flickr.com/photos/cogdog/sets/72157621855785131/
You can do random sets, "least interesting" (I wonder what that looks like?
And what may be the most useful, is that this managed set supposedly will be updated every day: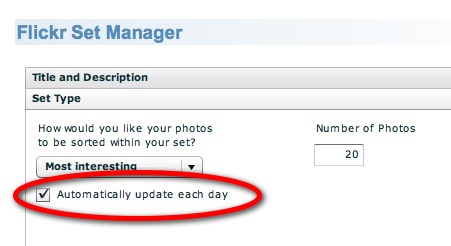 Very, very interesting…..