cc licensed flickr photo shared by WadeB
Flickr was quietly introduced a new feature that will be interesting to use- Galleries.
Think of it as a way to build collections of photos from other flickr users.
It was always hard to do this before; the ost viable route was tagging photos, most people do not allow other people to tag their photos, or the other route was creating a group and asking people to add their photos to their group (No offense, but I don't want to join 100 different groups just because you want my photo- believe me I am flattered, but I am also lazy).
Flickr galleries does that.
It allows you to visit other people's photos, and if there is a photo you like, you can add (or crate a brand new gallery on the spot) with a new button above the photo:. I decided to surf for dog photos, found one (! like 100,000,,000), and started from there:
And as I search among flickr photos, I find more to add, so now I have my Dogs Are Just Cool Gallery, where I can add a description, and re-arrange the order of my collection.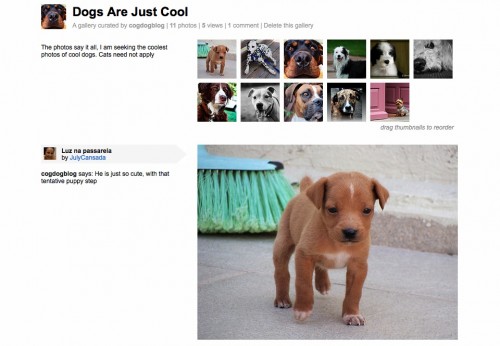 Ahh, but there is an interesting constraint- you can only have 18 photos in one gallery. So you must be selective in your curating:
We've specifically limited the number of photos or video that can be added to each gallery to 18. While it might seem like an arbitrary number, we want to give our members an opportunity to engage in activity that is similar to what a curator of a gallery or museum might undertake. And 18? It seems like a fine place to start.

Even a sprawling retrospective of a genre or specific artist wouldn't included every single piece of work available. A curator takes the time to choose a selection of artwork that together becomes something in itself.

It's a challenge and we're very much looking forward to see the fruits of your labour. Here's a selection of Galleries that we've noticed.
And the other aspect is when you are editing your own gallery, there is a place for the curator (hey that is you) get to say why you chose that photo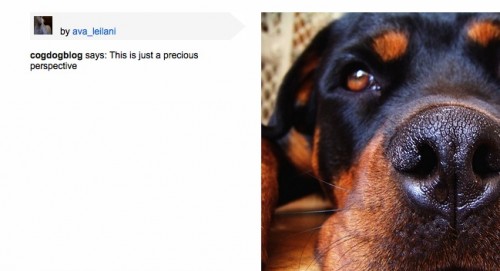 And what is also neat is that from your flickr page galleries link, you can see when your photos are added to the galleries that other people create:
And one more wrinkle- you cannot add your own photos to a gallery you create! It's all about reaching out and connecting beyond your little fiefdom.
If you are a teacher, you have to be reeling with ideas how you might use this– I know I would be!
Yay, flickr for adding Galleries.