One of my chief enjoyable moments is when I accidentally learn something. Here's another one for the pile.
On a trip earlier this month to San Francisco for a meeting, I was in a rather nice hotel, which meant that, according to Alexander's Law, the internet would be sucky (Bryan Alexander has collected data to ascertain that the more expensive the hotel, the slower and more un-reliable the wireless internet service will be). And thus it was; and I also got poor performance on my mobile wireless internet.
In all of this I was trying to upload flickr photos, both by the ConnectedFlow flickr export plugin for Aperture, and it failed twice after having entered all my titles and captions. It also failed when I let 2 photos try to run via the flickr uploader (that in turn was a sign).
ConnectedFlow runs its feedback via GetSatisfaction, and after finding some related reports, I added my own where I also said that it was frustrating to have to re-enter all my titles and captions if the flickr export plugin fails.
Fraiser (the developer of this great plugin) responded tonight, filling in that this happened because flickr was flicking the lights on the upload API, but then offered this suggestion:
Can I suggest – and I know this isn't a solution to the problem – that you enter your metadata in Aperture and let FlickrExport pick it up automatically? The way I personally use Aperture is to create a metadata view called "Flickr" with just the specific fields relevant to Flickr available.
I did not even know I could define my own metadata sets- I had been using IPTC expanded, but many of the fields I was not using. What he is saying is that I should try using Aperture's metadata when I edit my photos (I had been using keywords, which get transferred to flickr via the plug-in), but also use the Title and caption, so the data is in Aperture, and then just handed to flickr on the upload.
This was easy to set up my own meta data set (from the metadata tab, hit the menu under the"gear" in the top right). I made my set use just the metadata fields I use (keywords, category, city, state, country), as well as caption. I fond I needed to use the IPTC field for "headline" that it becomes the photo title in the flickr export plugin: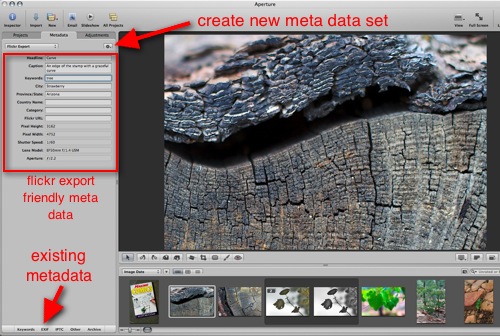 (if you use the tabs at the bottom while editing a meta data set, you can add additional fields).
So if I enter a title and caption in Aperture, it stays with the photo- and when I export, it gets sent to flickr.
Now editing in the tiny boxes is tedious, but its the same effort to type into the fields on the Flickr Export plugin, but if I do it in te Aperture metadata, the title and caption is attached to my photo, just include, flickr flicks again; all I need to do to resend is to re-export.