I've been happily tinkering with the beta version of WordPress 3, down in the bowels of the code, mixing unmarked vials of PHP over open flames, etc for a brand new NMC site. The main thing I have been working on are exploiting the feature to create my own types of content with their own properties.
Essentially up to know you could create two kinds of content- posts and pages, with pretty much the same feature. Any additional descriptors one wanted to add needed to be done via custom fields. The idea is now, I could create a kind of content, say to build an encyclopedia of dogs, and use all of the WordPress features to make an entry (title, post/content, tags). But to my Dog content type, I could also add additional fields, like radio buttons to classify them by "small", "medium", or "large", a field to enter a URL for an outside reference, a menu to classify my breed, etc.
My Dog content type would live outside the blog content, so they would not appear as posts, but I could create templates to display them and the additional data, I could build sidebar widgets, I can make archives, do all kinds of things.
Before I slip too much into jargon, let me say that everything I have done is by hand coding, and is not meant as the means this will likely be done in the future. Almost certainly plugins will develop to make what I have done much easier, though, in the code, you have the most flexibility. My purpose was (a) to show this as a concept that works; and (b) get a site up that needed to happen fast.
In learning to do this, I relied on a number of blog posts I found (see below); but no single post really covered it all, and most presented conceptual sites using content types, not a real one (and they always seem to use movies as an example?).
I will first show and talk about the (almost, 'cause its never quite done) final site. This is for a new NMC project, the Marcus Institute for Digital Education in the Arts (MIDEA) which is at http://midea.nmc.org/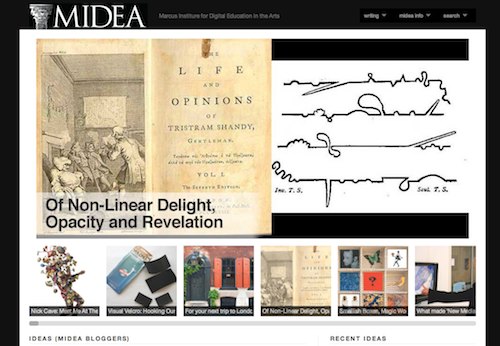 A few notes about this site:
The biggest steps were in making modifications to templates to display the content as needed, which led to a number of approaches for running custom queries, doing multiple loops, and more fun. So what I hope to cover in a series of posts next are:
You can find all the posts in this series at http://cogdogblog.com/2010/07/23/roundup-wp3/
Stick around for the code fun.
My key learning resources for this were: