I've not been able to directly say Happy Father's Day since 2001; that year I think I was on the road in Australia and he was home in Florida hanging out with cancer, before passing away in August. I had brought him  an Aussie belt

cc licensed flickr photo shared by cogdogblog
My mom ended up sending it back to me in a box of other special items, and I've worm that belt almost out in the last 9 years.
So given a lack of direct communication, I spent an hour riffling through old photos and memories…

Our lawn was a source of pride for Dad, and after years of various push mowers (and I did my own fair share of pushing), one of his dreams came true when he bought himself this little riding mower. IN fact, his email address included "lawnman" in it.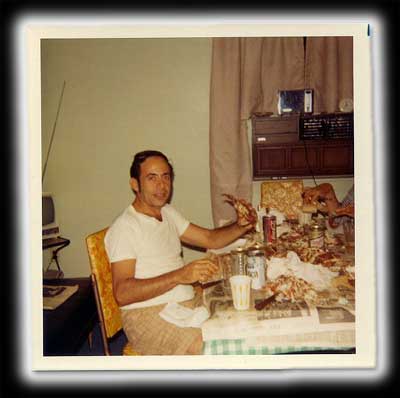 Dad did sure enjoy eating steamed crabs (and I am living proof of genetics), and many a summer night, as this one from our annual August trip to Ocean City, was a marathon of crab picking and claw hammering.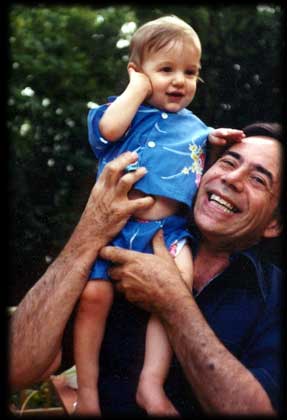 I recognize this smile from the older photos of me as a child- here it is again in a photo with his first grandson.
That smile says a lot to me. I can feel it.

Even with a much smaller lawn in Florida, Dad still got his work fix in tending the gardens. He did pretty well planting the tops of pineapples and later harvesting new ones that grew out of the plants. In fact, a few times, his pineapples were stolen!
My Dad was not extremely verbal, but his actions said a lot, but more than that, it was always a known that he was there for me, no matter what.
So while Dad's not here, he is here.