cc licensed flickr photo shared by jah~ off n on
Last night I had one of those technology #$*&@ moments. I use a portable 500 Gb Firewire drive to keep the master image files for photos I edit in Aperture. It was acting a bit slower than normal, and I began to think it was time to run some diagnostics in it. But I got in my mind to do some organizing first, and in the middle of trying to move a file on the drive… the Finder on my MacBookPro died, and would not relaunch. I was forced to do a hard reboot, and now my trusty drive will not mount, even with tools like Disk Warrior.
As it happened, just yesterday., I had run a sync backup to another hard drive. I dont think I've ever been that data responsible.
But what about all the stuff we hang out there in the Cloud? Our social media, our online data strewn about like a colorful pile of lego blocks. On one hand, I would nto be crushed if I lost some twitter messages (twitter search cannot not reliably find them).
Enter Backupify… a cloud base cloud hole plugger?
Peace of Mind, yes, that sounds good.
With Backupify, you set up which services you want backed up, the list is growing, but right now, without me lifting a finger, I am getting regular backups of flickr, twitter, Google Docs, Google Calendar, Google Mail, delicious. I'm looking to add their plugin to my WordPress blogs too.
For flickr, I can easily scout my archives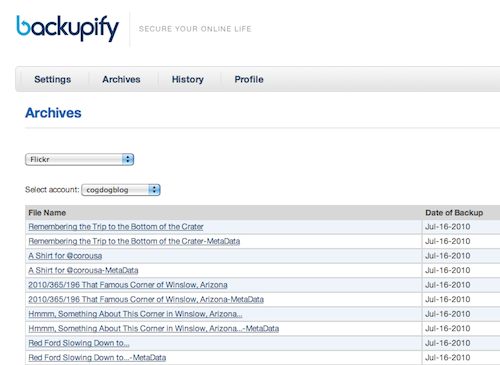 I get options to view/download my original uploaded image, plus there is also a download that contains the flickr meta data for that image. I dont know yet what I would do with it, but it's there: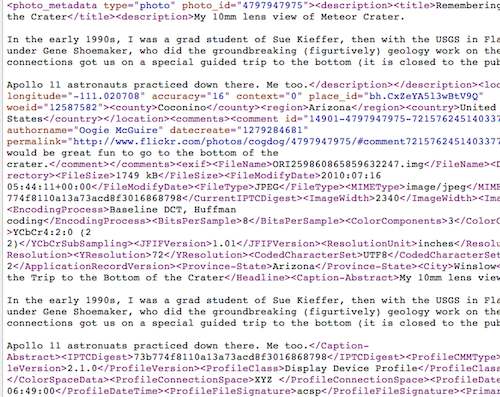 Backupify works with services that allow it access to its APIs, and the data is stored in the Amazon cloud.
For twitter, you have regular backups of your updates, @replies, direct messages– again, it's in XML format, so I cant do much with it.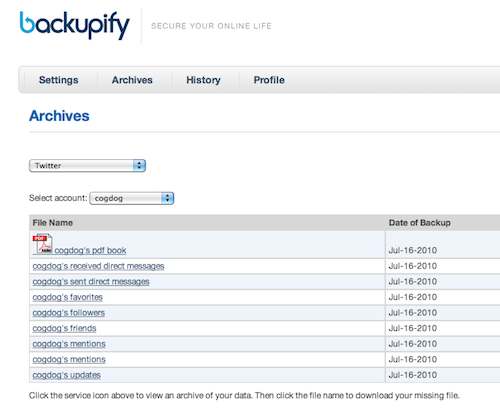 But Backupify does append info to a "Twitter Book" a nicely assembled PDF of all this activity. Mine is 8 Mb, 1740 pages long, and goes back to a year ago, I guess when I activated this backup: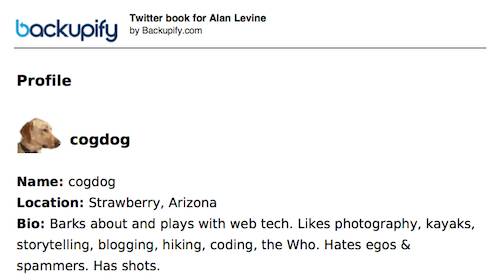 pricing). I cant seem to find how much of that quota I have used (it is a feature being added "soon").
This is not a sponsored or requested promotion- I use Backupify and like their service!
So what's got your back in the clouds? Luck? Charm?