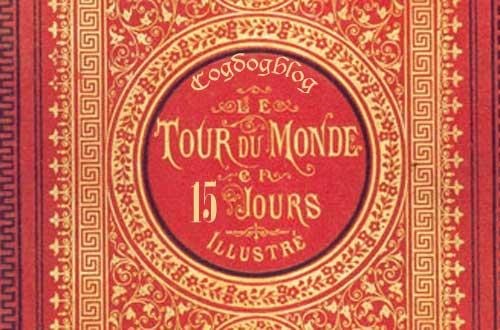 modified from Wikimedia Commons public domain image
I am not blogging about not blogging about not blogging… but dangerously close seeing the last post dated September 30.
Last night I closed had my two week round the world loop, and yes, some 140 years later, I have some speed advantages over Mr Fogg, who to rely on steamers and railways to win his 80 day wager.
But he got rich on his trip; I came home tired and sick– having eluded catching a cold the entire time, much of in enclosed space of planes recirculating other people's exhalations. While riding the bus from the Phoenix airport terminal to long term parking, I calculated via my TripIt tracking that between September 22 and October 6 I traveled 29,118 miles by plane.
It was (a) a nutty way to see the world because I did not see a whole lot of it; (b) all related to a series of important NMC meetings; (c) something I chose so I cannot blame anyone but the tired dog in the mirror.
I'm behind on my 365 photos. On my dailyshoot photos. On about half a dozen blog posts bouncing in my head. On prepping a badly needed update to 50+ Web 2.0 Ways to Tell a Story. On all kinds of work projects. I'm no even trying to pretend I can manage the #plenk2010 readings. Har.
I missed some hellacious storms in Arizona. My vegetable garden turned a giant bowl of yellow squash and tomatoes while gone, and most of the plants are starting to show their weariness, likely from the cooling evening temps. I am facing the car who's tire blasted on the way out of here and needs to be fixed. There are weeds the size of collies in my yard. My training for the half marathon has a big divit in the weekly miles.
Can't even think about it all with the jackhammers pounding the school and the dry hacking coughs I can do in peace in a quiet house.
Can I start whinging now?
Or stop?
So let me turn this cranky cloud inside out for some silvery interiors. This trip included:
A big scoop of frequent flyer miles.
A brief respite in California with my special someone, and even there, probably the first run I can say I did not hate.
Several fine legs of comfortable flight on Air New Zealand, some of the best, friendly service and useful amenities anywhere. They have the best clubs too, with real food, and a self serve bar. But the top thing was their rugby themed safety announcement, which certainly grabs your attention like no other:
A chance to see the unique home of Phil Long in Brisbane, Rana Batan Waru, truly a temple under the trees. Too bad he was deathly clobbered with a nasty virus (which I am assuming I did not catch… I said…. I am assuming…)
I did a keynote for Kaplan University's online conference, KU Village 2010, at 1:00am the day I arrived… and presented from bed. It's a whole new work world.
A great breakfast with Cyprien and family plus a walk down the Brisbane river trail. Here I learned about, and observed about the dive bombing magpies (and a day later got pegged myself, ouch!)
Several great dinners and conversations with my boss, Larry. Plus we ran a great meeting related to the ensuing 2010 Horizon Report: Australia-New Zealand Edition. The idea was to bring together educational leaders and develop a series of Strategic Action steps meant to further the adfances of technology in higher education down under (see draft of Brisbane Communiqué)
Was an extra bonus to re-connect with long time Aussie friends Robyn Jay and Michael Coghlan
Had a great donner with Steve Wheeler, who ironically was in Brisbane for a different even and also keynoted for the Kaplan University conference. What are the odds…
Saw some great exhibits at the Gallery of Modern Art in Brisbane, enjoying most of all the photographic portraits of Douglas Kirkland, a long time Look photographer I never heard of.
A too brief return visit to Wellington, NZ, where I was there last almost exactly 10 years ago. A city near the sea built on hilly land shaped by earthquakes- a San Francisco recipe for sure.
A second version fo the same meeting for the Horizon project with a group of New Zealand Educators, again focused on outlining the critical issues for advancing the use of technology in higher education ((see draft of Wellington Communiqué). Gordon Suddaby from ACODE was an amazing host.
Also got to meet the godfather of Wikieducator, Wayne Mackintosh
I thank the weather gods who turned the rainy weather into blue sky for my last free afternoon in Wellington, got to walk a bit under sunshine, make a short visit to Te Papa, and had a great visit with Kristina H who invited me to Beer o'clock at her company, Catalyst.
Okay, New Zealand is a long freaking way from Barcelona. Like half a world. It was 1 hour to fly from Wellington to Auckland, another 11 hours to Hong Kong, another 13 to Paris, and another hour to Barcelona.
While I had a four hour layover in Hong Kong, it was not enough to visit my friend Nick Noakes. That was a bad plan to fly through.
Met an interesting young couple on that long flight to Hong Kong, they on their way to London- he worked as a plaster, but was excited to talk about working on the set of a hollywood movie being shot in the Giold Coast- his steps he build would be famous.
I was excited to find some Manuka honey in the Auckland duty free shop, one for my friend Cheryl and the other for my Mom when she comes to visit.
I was dismayed when the French security took my honey because their machine could not identify it. Yeah, they were on high alert with the latest terror scare (there were 3 different checkpoints on a simple transfer). But now I have to tell Cheryl and Mom I lost the honey.
Barcelona is always magical, from the curvy gothic streets to hearing a trumpet being soulfully played in the streets at 6:00am- and the food, the food, the food!
It was a pleasre to be part of the Open EdTech 2010 meeting, this year with the avant garde topic of Campus Life- not what you think. It was a look at what makes the online learning experience engaging and attractive, looking at everything BUT the courses and the content, where usually all the focus goes. Eva de Lera is a truly brave and visionary leader at the UOC, and a host among hosts for making the experience memorable, including again, an experience at Cook & Taste… the details from the meeting are still being summarized but a short brief will be out next week, and we at the NMC are due to publish the full report in a month.
The rest of the trip home is a blur of weariness, coughing, and dozing on Delta, which feels like the chintziest of airlines after Air New Zealand.
I'm still a boat load of photo uploads behind. And all that other stuff.
But I did go around the world. I think I just wanted to be able to say that. Not that I would do it again under the same time constraints.
Don't quote me on that.