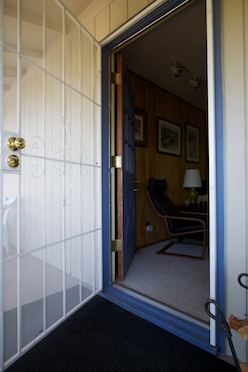 Being open and supporting openness is one thing. You make the step to leave the door open, letting the outside come in, ro maybe just let them see inside your living room. But it also can feel like FoD Syndrome (Field of Dreams), if you Open it They Will Come.
But it's another whole level when there is a person, or group, or entity, that puts their energy not just into the construction and operation of doors, but more into the process of actively inviting people to take part of the openness.
Perhaps it is semantic, or perhaps it is just a weak excuse for me to try and put an animated GIF to use beyond playing around in ds106, but its been on my mind.
This idea on openness has been brewing, perhaps fermenting, in my head since my trip to Vancouver last month for the Northern Voice conference. It came up twice I believe, first in a small group discussion at the SCoPE Gathering for Online Enthusiasts — I am pretty sure Scott Leslie said it first, or maybe because he was leading the discussion, but it came up later at Northern Voice in another context.
I recall Scott using an example from the very SCoPE meeting we were at- it's being open to put up a web page for the event, to broadcast it as an open event via social media and/or mass emails. That is an empty open door. but Scott noted and (I can confirm) how effective it was for organizer Sylvia Currie who made the direct outreach to others to be part of the event, in person or virtually. She had noted I was coming to Northern Voice, and she sent me a direct email inviting me to participate in their open meeting.
Now I am not saying we have to spend gobs of times doing one on one contacts, but I am trying to suss out more how I can be more effective at going beyond just opening doors to making people feeling invited to step in. I have doing the door thing a lot, with asking people to share a vide for my Amazing Stories and more recently, setting up another open door for my StoryBox project .
So yeah, I may do more direct, personal requests for participating, but maybe becoming a better inviter is also shaping your message more into something that makes it clear (or intriguing enough) for people to feel invited to participate.
I'm not even sure how to go about this, but I am thinking on it. I invite you to help me figure it out (?) Do you want a party invitation? Is being "open" enough?