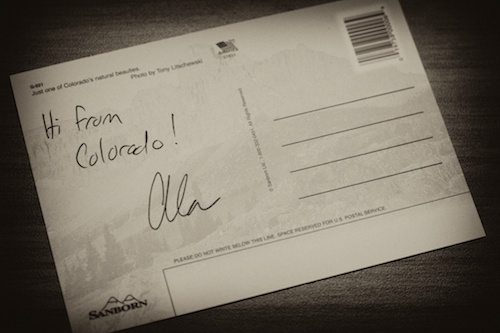 Holy retro, Batman! I am sending analog postcards! Those things with short, hand written, possibly tweet-length sentiments (sans hashtags) with a real photo attached, not a twitpic link.
Doing this while traveling took me back in time to growing up and getting postcards from Cousin Bobby. I was not (and still not) clear on whose cousin he was– it was on my Mom's side. I recall that he worked for the post office, was not married, and used all fo his free time and money to travel the world.
This I knew because we would get these strings of postcards from Poland, Argentina, Greece, Mexico, Ireland etc, all bearing his signature "Hi from _______, Bobby" and of course, some exotic stamp. I can barely remember him visiting, and all I do remember is that he was bald. That's pretty minimal.
I'm not trying to compare myself, but I feel myself connected to this relative I barely remember, and maybe was barely related to. He did not try and fill the cards with fake sentiments ("wish you were here"), he was not saying anything except, "I am here and was thinking of you".
So here I am in a Colorado hotel room, toasting you, Cousin Bobby and your traveling spirit.
UPDATE: Fortunately my sister has better info (and Mom was visiting her):
Mom and I were looking at your blog tonight and got a kick out of you remembering cousin Bobby. You know how I never throw anything away, I know that somewhere I have some of his postcards!!

You are correct that he worked for the post office. He was a cousin of dad's as he was grandma's sister Helen's son. He did like to travel. He would come in on the train and mom would pick him up at the station. I do remember that he always wore a suit no matter what the season. He also never had any luggage, only a toothbrush! He would only stay for one night and be one his way.

I remember that he was the only person that I knew that had ever been to the Galapagos Islands and saw the giant tortoises. So cheers to cousin Bobby as he would love the adventure that you are on!!