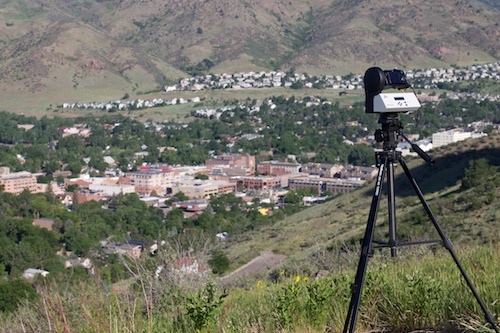 I'm in Golden, Colorado for three days, doing work for a project needing photography of town and interviews with key city developers and citizens. It is a dynamic place full of active people, and the mountains around town provide more than nice rocks to look at; they do seem to be a key component of the life here.
Many people have recommended the views from one of the mesas (to the east) or the mountains (to the west), so I decided it was time to dust off the Gigapan and see fi I can render some scenes that might be of value to the project. (plus it would get me some much needed exercise).
So this morning I was hiking up the trail to South Table Mesa, which in the morning light did provide a stunning view of the entire town. I was also treated at the top to the sight of some coyotes romping (they said "yo" to me).
Here is the GigaPan scene generated; again the value here above a simple panorama, is being able to zoom in and mark areas, details as "snapshots" – explore this on the hosted scene:
I'm hoping to do one or two more from other perches. My rig (the early beta version of the Epic rig) does okay, but the quality of image I can get is limited to the resolution of my small Canon camera – see the current offerings, which are not cheap, for the Big Rigs at http://gigapansystems.com/.
And apparently there is a GigaPan iPad app that I might have to explore.