This first order of business after arriving at Cole Camplese's house (past a huge hello hug) was a trip to Otto's to fill up the fuel tanks for the evening's activities…

cc licensed ( BY ) flickr photo shared by cogdogblog
Well, actually before all this was a round of play in the front yard with Cole's kids. I do have my priorities.
It has been inspiring to watch and read and follow and partake (running out of verbs here) Cole's posts about the disaster of floods that destroyed much of his home town in Bloomsburg- he is putting up a strong front to the only source of news, the local paper, who is not allowing their pasts tories to be in the open, as D'Arcy Norman described, creating a "cone of silence". Some shit is being kicked up, that's how Cole Rolls.
His flickr set of photos are spreading widely, with now he repots over 100,000 views, and has been used in a video report by Accuweather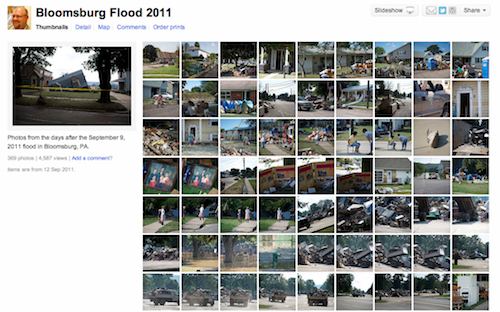 http://www.youtube.com/watch?v=RCk-W_45pu8
"This is how we roll" is one of those Cole expressions I treasure from hanging out with him. It's got attitude.
This is how he blogs, using his big screen TV to compose

cc licensed ( BY ) flickr photo shared by cogdogblog
Anyhow, we had a fine fine dinner prepared by Kristen, and settled down to the business of talking shop, life, and stuff, all on ds106 radio. Cole was very interested to go on, and as we say among us, there is nothing finer than getting someone interested in taking the mic, or birthing a new DJ. That is how we roll.
We talked for almost two hours, killed the 3 growlers, starting with some music Cole selected, such as Oxford Comma by Vampire Weekend and At the Beach by Mignonette, all new stuff to me. We talked about ds106, some smack about Jim Groom, blogging, and of course Cole's perspective on the news not being shared about the flood of his home town.
He played the podcast he made on his early visit, and just his voice sets the stage for what it was like that day.
Cole Complese Flood Stories (Sep 13, 2011)
And of course we had fun, and somehow we peaked with 23 listeners, more than I usually get in about 5 broadcasts combined). We had people like my friend Kevin, Chris Long, and more chime in. Scottlo from tokyo. It's the usual thing I enjoy the most, turning on the radio with a friend, with no plan, and running with it. Yeah, we had some dead air and flubbed song starts. Nobody cares.
That is how we roll.
There is an archive, almost two hours.
ds106 radio growler cast with Cole Camplese
It is a true pleasure and honor to have friends like Cole- certainly our connections started (and continue online), but it's the in person times that glue it up.

cc licensed ( BY ) flickr photo shared by cogdogblog

cc licensed ( BY ) flickr photo shared by cogdogblog
Friendship is online and offline, it's all one thing.
That is how we roll.