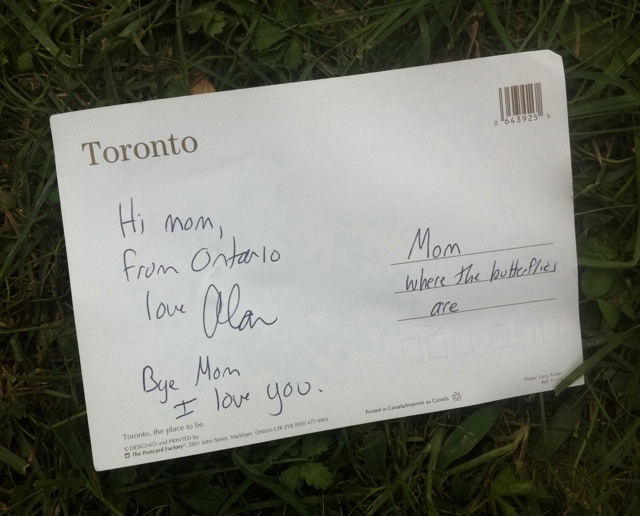 We carried the box out of the car and set it gently on those straps, suspended over the hole. I shall never ever forget that lonely creaky sounds those straps make when released, when Mom went into the ground.
I spoke about how I was worried when I told mom in March that I had quit a well paying job to spend 5 months touring the country, without a plan to get a job or line up health insurance. I imagined she would let me know what a foolish choice this was, yet that was far from what she said.
Mom was so excited for my plan. I told them about the "Cousin Bobby" postcards I sent from every state and province; that Sunday afternoon I was almost out of Ontario when I remembered to get her a Toronto card (this one in my hand). Now Mom I am going to send you with my last postcard to you (big tears).
I talked about how as a teen and a young adult how uncool it was to be around my Mom, how her "squareness" annoyed me, her over protective actions that bridled my identity as a "man". I then shared, with a verbal smiley, how much she changed in the next 20 years (ahem) especially after Dad passed; how I looked forward to our weekly calls, our laughs, the fun we had on her visits to Strawberry.
And I talked about how much I learned from her selfless sacrifice, how she lived to make connections with strangers, how she was really interested in making people, strangers feel important.
I talked about how she participated in
My online stuff, letting me blog about her, share her cookie stories and butterfly philosophy live over Internet radio– that she had a huge following if thousands of people out there who were touched by her, even that they were right now playing "Sweet Caroline" on the ds106radio.
I mentioned how mom's stories made an impact in Claudia, a teacher in Argentina I never met but was among those dream friends that are real on the Internet.
I told her how much light she made in the world and how lost I am without her (bigger tears).
My sister and nephew spoke their own powerful messages (Josh you truly communicated Mom's gifts to us all, thanks).
A few prayers, the ropes creak, down it goes, we toss dirt (and one postcard), and it's over.
But it's not over. Now my friends, my loving dear internet friends that are more real world than anything, ate spreading Alyce's #cookielove- you are asked on Sunday to bake a batch of cookies, share them with a stranger, and share your story. See http://bit.ly/cookielove
This life without Mom in it is not the same, but I want to try even harder to live up to her ways.
Bye Mom, from Baltimore,
Love Alan