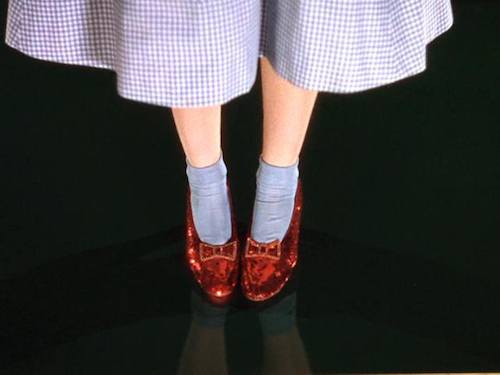 I do not have the fancy red shoes, but I do have a kick-ass red pickup truck!

cc licensed ( BY ) flickr photo shared by cogdogblog
My 2011 Road Odyssey closed its lop last night when I got home at 6:30pm to my home in Strawberry, AZ, 15,030 miles and 5 months since I left in late June. This last bit was a manic sprint, covering 2200 miles from Fort Myers Florida starting Monday morning.
I do not highly recommend that travel mode. It was my choice, driven my the fact I signed up to do a trip to Australia starting.. next friday.
Parked in my driveway, I did a short ds106radio broadcast of the coming home moment, walking in my door, and also archived it on my phone recorder.
I was just about 30 miles up the road, the place where the AZ 87 heading south from Winslow rises up into the pine forest, when I hit the 15,000 mile mark.
Right after, what song should come up on the random shuffle (over 1000 songs), but the Rolling Stones She's a Rainbow — the song Andy Forgrave had played in my Mom's honor that sad night in Bellville when I got the news my Mom had passed away.
For the first time since I stood by her grave side, the tears came, driving that lonesome highway under the last blue tints of the Arizona sky. It is because the plan was that Mom was going to come out here next week for our usual Thanksgiving times here in Strawberry. We had spent the last 3 or 4 ones here, and it was these times we had really gotten so much more close.
And this year… she won't be here.
And that is just one part of this emotional gumbo of ending this trip, returning to a place I had packed up to move to my next home, and now having to re-adjust all of the changed plans.
Don't let the weepy writing so far tinge too much how epic this journey was, and I want to sort out how I will wrap it up before too much life slips by. I have one more road stat to crank out.
I do want to publish something from this trip, though nothing like a regular book. I have no idea what form it will be in, but there's a lot to try and organize, and entropy is wrapping tis tentacles around me.
But for now, I am off to have traditional breakfast at the Randall House in Pine with my local friends, and then I have to unload the truck, and just… be here. No 500 mile drives today.
Home.
She comes in colors ev'rywhere;
She combs her hair
She's like a rainbow
Coming, colors in the air
everywhere
She comes in colors