cc licensed ( BY NC ND ) flickr photo shared by sea turtle
MOOCs are a rumbling. For those following them or participating, so called Massive Online Open Courses might feel they are coming of age. I'd bet they are far from the horizons for most educators. I think the most important stuff about MOOCs is in the middle.
Tim Owens has nicely frames some issues with MOOCs and his post is well worth a read. As is David Wiley's series on his opinions of MOOCs (with the expected usual word matches with Stephen Downes).
To me, the acronym is become a bit of an albatross or something that has less meaning than literal, and perhaps some day may just be an alias, or reference to the concept than an explanation itself. I agree with David Wiley that the "M" is rather like one of those appendages that has no purpose:
"Massive" does not modify "open" in any meaningful way. "Completely open" I would understand. I'm sure someone hoped to gain some recognition by remixing the popular term Massively Multiplayer Online Role-Playing Game. But at least in that case the word "massively" does meaningfully modify the word "multiplayer." There are 100s of 1000s of people in these games. "Massively multi-learner" might have made sense if the goal of MOOCs was to serve 100s of 1000s of people. However, "massive open" doesn't mean anything. If you're going to start a movement of sorts, at last pick a descriptive name. And MOOC just sounds goofy.
But I question the use of the "C" as well- not to say there cannot by open online courses, but that the "Course" model seems to be always central. From Wikipedia
A Massive open online course (MOOC) is a course where the participants are distributed and course materials also are dispersed across the web.
Of course a course is a course, but WIlbur… aren't there other ways to leverage the structure, the spirit, the modality of open online courses in non course endeavors? Of course!
It was my conversation with Gardner Campbell that rose a spark with his assertion that we stil focus on Open Resources, rather than, his phrase Open Educational Experiences. This was amplified even more in Jim Groom's #occupy Open Ed killer keynote – we can do so much more than just courses. We can do stuff that matters.
And that agrees with my gut that says most MOOCs are very "course-ish" – there is a syllabus (created by the course organizers), there is a regular series of sessions/lectures (selected by the course organizers). The thing unique to ds106 is that it is, to me, the least "course-ish" in design although it still is a course. Of course.
So generally the framework is created FOR learners by an individual, or group, or organization. And that is okay, do not get me wrong- someone/some place decides they have an educational offering that would have value in opening up to an internet audience, fantastico. We need more.
But until last week, I wondered if there would be anything that pushed the "C" right off the edge, and focus most on the O and the O.
David Kernohan, maybe just tweeting in the breeze posts: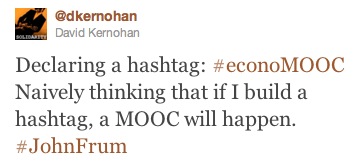 I can only guess what he had i mind (well he actually blogged in quite clearly) but in this #occupy moment, when there are serious doubts about the sustainability of our way of life, isn't there a rich place to be exploring, sharing ideas about how the economy works? Can there not be anything more important to us now?
And why not see of the elements of an open course from ds106 might work in another discipline? This played out completely free form openly in the Twitter
Even if nothing pans out, I totally dig how an idea can bubble and bounce in this space of creative colleagues, draw in new people, and grow like a flower or some mutant virus.
And so it has- check out http://freetradeeconomics.wikispaces.com/EconoMOOC
My wonder is, how "course-ish" will this get?
Here's a dream I have- there is a an open space for people to put out all the kinds of things about Economics they want to know- markets, how trade deficits work, heck, even the Smoot-Hartley act — a chance for people interested in this experience to help define what it becomes.
Then pair this with people who have the knowledge/experience to guide us through a shared learning experience, and a place to dump, and share resources. And some sort of ds106 assignment creation bank, and we put those skills of ds106 creativity, making visuals, audio, videos, mashups, to work on creating understanding of the topic.
It need not have a rigid course format, does it? Does it have to be a course at all?
Maybe it does. Maybe it works best. I don;t know. I am just wondering about the assumption that a Massive Online Open Experience need be a course.
What it ought to be, is again, where I fall to some musical metaphors.
Its like joining a band. A band of minstrels, gypsies, pirates, or just rock and rollers.. how cool is it to be part of a band, maybe a small tight unit, maybe a massive one?

cc licensed ( BY NC SD ) flickr photo shared by timtom.ch

cc licensed ( BY NC ND ) flickr photo shared by ViaMoi

cc licensed ( BY NC ND ) flickr photo shared by Sarah Schuster

cc licensed ( BY NC ND ) flickr photo shared by www.brettarthurphoto.com

cc licensed ( BY NC ND ) flickr photo shared by sidkid
And that, to me, is what ds106 does that no other MOOC does- it makes you want to Join Together with the Band
http://www.youtube.com/watch?v=q_BpxrnZDs0
When you hear this sound a-comin'
Hear the drummer drumming
Won't you join together with the band
We don't move in any 'ticular direction
And we don't make no collections
Won't you join together with the band.
See, the band is in motion. It's got no led direction, and is not about the money.
Do you really think I care
What you eat or what you wear
Won't you join together with the band
There's a million ways to laugh
Ev'ry one's a path
Won't you join together with the band.
The not caring about what you eat or wear (or blog or tweet) is less dismissive but more that it does not matter, you are welcome. And laughter (fun) counts. A lot.
Everybody join together
Won't you join together
Come on and join together with the band
We need to join together
Won't you join together
Come on and join together with the band.

You don't have to play
You can follow or lead the way
Won't you join together with the band
We don't know where we're going
But the season's right for knowing
Won't you join together with the band.
It does not matter what you do, play/dont play, lead/follow — and I love this " the season's right for knowing"
It's the singer not the song
That makes the music move along
Won't you join together with the band
This is the biggest band you'll find
It's as deep as it is wide
Won't you join together with the band.
"It's the singer not the song"— dig that? To me, that's again, not about the content or the resources, but how they are experienced — and so much is true about ds106 – "It's as deep as it is wide"
So I hope that the Economooc is more like that band you want to join together with, and I'm really eager to see it unfurl, and more so if it keeps in this organic mode.
Or as David Kernohan wrote:
Like many of the finest things in life, #economooc began in a twitter discussion with Giulia Forsythe. Both of us are enjoying the creativity and peer learning that ds106 exemplifies. And both of us want to learn more about economics, this crazy collection of academic theories which seems to run the world and could lead either to utopia or apocalypse. We're both happy with self-directed learning, but would appreciate peer support and expert or non-expert comments.
I can dig it. See what you think- head over to http://freetradeeconomics.wikispaces.com/EconoMOOC