Following on Dean Shareski's 1461 and counting, I was inspired to create a video from my own 2011/365 photos. In previous years, I used the easiest method for this, using the pummelvisoon site, but wanted to see if it could be easily done in my own tools.
It took not long at all!
Since I already manage, tag, and title/caption all my photos in Aperture, I thought it could be done there was well. I ran test first to get the search query correct, which turns out to be using the Date filter (using year captured as 2011, you might have to add this from the Add Rule menu top right), and the keywords checkbox for 2011365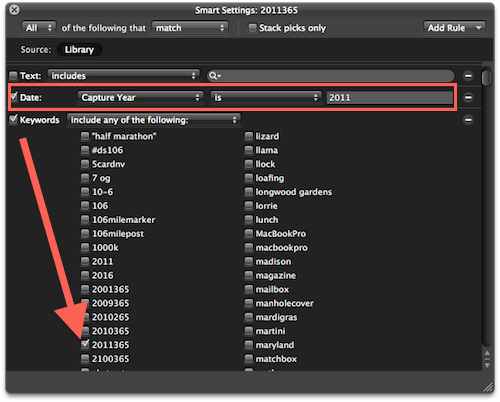 Doing this first allowed me to catch a few wrongly tagged photos (like "2011364", "2011264"). Once my search was done, I did a command-A to select all the photos. Then go to File -> New -> Slideshow, pick a theme (I used "Sliding Panels"), and check the box for Use Selected Photos.
The first slide has the options for adding title and text- it took a little fiddling to format- look for a command-click submenu for Show Fonts). For music, I did some searching in ccMixter on "Camera" to find two songs I liked.
"Yage Camera – Travelin'Mix" by Audio Morphology
http://ccmixter.org/files/richardg/5732
is licensed under a Creative Commons license:
http://creativecommons.org/licenses/by-nc/2.5/

"Yage Cameras (hbe's fractured rework)" by hisboyelroy
http://ccmixter.org/files/hisboyelroy/5793
is licensed under a Creative Commons license:
http://creativecommons.org/licenses/by-nc/2.5/
I then exported it to a video using the preset for iPad/YouTube, uploaded, and was done.
I like having something Non Ken Burns-ish. The template in Aperture was fine, I might look around to see if you can add more, but find that this was a rather simple way to collect photos in the software I already use and produce a video.
I'm a little behind you Dean, in the 2012/366 flickr group, I have only 1349 ;-), but as usual, your effort inspired me to do this video.
We have a nice burst of activity, 40 people have joined the flickr group since yesterday! For those wanted to join in, you should first create a flickr account if you do not have one, and join the group. From there, just pick one photo each day to share with the group. There are no specifics on what you choose or shoot- some people do themes, some just go with what they feel is their best or most interesting photo.
My own suggestions are:
Do more than just share something nebulously named "IMG_949.JPG", the photos are more interesting to others with titles, captions, tags, geolocation. The more meta data the better, but most key IMHO is to reflect i the captio why you chose that photo or what it meant to you.
Try to make a regular habit to check the pool and comment on the photos of others or at least, do some favoriting- say something useful besides "Nice Photo!"- I cannot state enough how much paying forwad that comments do. If you like getting feedback, then give some.
There is occasionally questions or activities in the group discussion– this ebbs and flows, but can be a place for more connectivity.
Make a regular time to devote to doing a minimum amount of photo work- 30 minutes in the morning; maybe your lunch hour, or afternoon walk time. My strategy is to always take a few in the morning, so I have at least a safety valve if I get busy later in the day.
If you are stumped for ideas, look at the photos of other people. Or just more closely at your own surroundings. Try a new angle. Look for good lighting or shadows. Try things like getting in super close for details or find interesting angles on everyday objects. I bet 80% of my photos are from around my 900 sq foot house and 1/3 acre lot; and I have never failed to find something new.
Don't get caught up in a trap of guilty if you miss a day. No one grades you. Just get going the next day.
Make it easy- if your time is pressed, use/upload from your mobile
Just shoot a lot. I often find my favorite picture is not the one I thought when I took t, but when I review it later in the day doing my editing.
Just start and stick with it. And watch out for your cats

cc licensed ( BY NC SD ) flickr photo shared by Kaptain Kobold