cc licensed ( BY NC ND ) flickr photo shared by famousright
Do you know the old saying "If it doesn't bleed, it doesn't lead…'
Do you? Because I could not find it attributed to anyone beyond "old media hands" or "old saying" or "as te saying goes".
Nevertheless, do not let the story get in the way of an eye catching headline; few do it more bloodily than the Chronicle of Higher Education. Check out this report: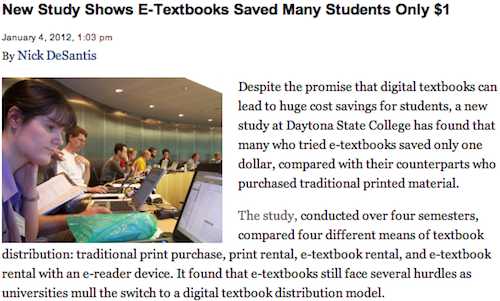 The first paragraph that is there to draw you in to their in depth reporting (my emphasis added):
Despite the promise that digital textbooks can lead to huge cost savings for students, a new study at Daytona State College has found that many who tried e-textbooks saved only one dollar, compared with their counterparts who purchased traditional printed material.
and in the third paragraph:
Perhaps the most surprising finding was the $1-dollar difference, which one course's students encountered during three of the four semesters. The study's authors attributed those slim savings to "publisher pricing decisions." Making matters worse, the students renting e-textbooks could not sell the materials back to the campus bookstore when the semester ended. (In the second course surveyed, student savings were more significant, sometimes surpassing $40 per student.)
One would think the major result of this study os the shocking news that electronic texts only saved students negligible money. The fact is, in looking at the report, A Study of Four Textbook Distribution Models (EDUCAUSE Quarterly), which is quite detailed, I had to do a keyword search to find this one sentence:
During three of the project's four semesters, students enrolled in some of the e-text pilot sections paid only $1 less for rental of their e-texts than students who bought a printed book due to publisher pricing decisions.
This was not listing in the reports concluding points nor the reports leading Key Takeaways. And in fact, this $1 difference was in a course where the study compared print books versus e-text rentals.
It hardly stands out as the major result of the study. I think the folks at the Chronicle should be whipped with run-on-sentences for this cheap publishing trick. Shame shame shame.
More so, it merits noting that the study was conducted in 2009-2010, and the whole range of e-text options have evolved significantly since then.
In fact my clearest takeaway, and what is so obvious is "Students want cheaper options for textbooks", and the fact that publishers, institutions, and even teachers– all people who have gone through colleges and paid outrageous costs for texts– have really not done much to systematically address this problem. It has gone on forever.
And the strategies to addressing textbook costs seem always on the supply side- looking for lower cost options for the use of textbooks, rather than the demand side- are we really looking at the stated need up front for textbooks? Are we yet to embrace the use of other (e.g. open, free) options for content? Is the textbook sacrosanct, non-negotiable must have for an education? In some cases yes, but in all? Doesn't every former student have a story about the $90 textbook they were told to buy but never used?
These to me are more fundamentally important questions than devices and such. And one can certainly count on the sacred form of journalism at places like the CHronicle, and the National Enquirer, to deploy the same methods to share their investigative research.

cc licensed ( BY NC ) flickr photo shared by TedRheingold
Now has anyone seen those Sea Monkeys I ordered last week?