cc licensed ( BY ND ) flickr photo shared by Mom Smackley
Maybe this is a series, but today's rant is a follow-up on How to Be a Social Media Dust Bunny*.
Spam by email is likely now about 15+ years old, and has become such a commonality that many of us take it as a Fact of eLife (I fall in that camp). Over the last few years, a new tactic has emegered that people can harvest your address and dump it into a mass email tool and send you whatever the **** they want if they provide a link to opt out. I am opting out several times a week from crap I never asked for.
So you are some hip startup in eLearning and trying to tap into the biz with some new service. Is this the image you want to project cause it smells like Dust Bunny Poop: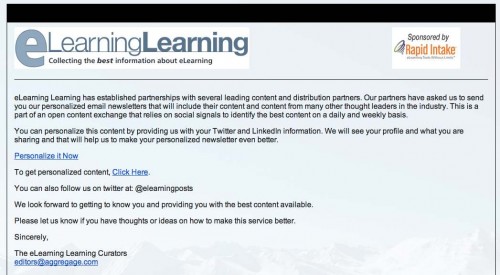 and the text, for your bunny sniffing pleasure (my emphasis added):
eLearning Learning has established partnerships with several leading content and distribution partners. Our partners have asked us to send you our personalized email newsletters that will include their content and content from many other thought leaders in the industry. This is a part of an open content exchange that relies on social signals to identify the best content on a daily and weekly basis.

You can personalize this content by providing us with your Twitter and LinkedIn information. We will see your profile and what you are sharing and that will help us to make your personalized newsletter even better.

Personalize it Now

To get personalized content, Click Here.

You can also follow us on twitter at: @elearningposts

We look forward to getting to know you and providing you with the best content available.

Please let us know if you have thoughts or ideas on how to make this service better.

Sincerely,

The eLearning Learning Curators
editors@aggregage.com
Their business parts want to send me shit? I never asked for it, and in my super basic understanding of the CAN SPAM act, not providing a direct opt-out is a violation of the law, subject of fines up to $16,000, specifically:
Offering a Way to Reject Future Messages "" Commercial email senders must provide easily-accessible, legitimate ways for recipients to reject future messages from that sender.
So I replied to the message:
I did not ask for nor sign up for this email and the lack of an opt out in this message puts you in direct violation of the CAN SPAM Act. If you do not confirm my removal from your list in the next 48 hours, I shall file a report with the FCC.
No response yet. Feel free to retweet this:
@elearningposts I did not request your newsletter. Your email to me w/o an immediate opt-out option is a violation of the CAN SPAM act.

— Alan Levine (@cogdog) January 11, 2012
Fracking Dust Bunnies.
* "Dust Bunny" is a euphemism for another word I dont want your Mom to read in a blog post.
UPDATE: Later the same day: Tony Karrer responded by email and confirmed I was removed from the list and that they would make sure the opt-outs are in all future mailings. Sure, I vented here like a mad cow, but it worked!