cc licensed ( BY ) flickr photo shared by michale
Red Dog parked in Fredericksburg, Virginia on Monday afternoon, and has not moved since. It feels both odd and rewarding to not be in motion, yet I am still very much in a place of transition.
Here is the place to insert the standard apology for not blogging. There is a queue of backlog posts, at least 3 or 4 Slices of Life audio to hang here.
For the quick recap, I rushed here to be present in person to teach my section of ds106. I have a teaching blog set up using the same instructions we give students at http://106tricks.net – I was using Feed WordPress to pull posts in here, but noticed they were double posted and thrice tweeted. I might just put a sidebar RSS feed widget.
In some ways my start was a side parallel of the Summer of Oblivion, where the teacher appeared after being present only in video, without the drama and hair shaving. Maybe. I'm definitely quickly trying to find my way in the teaching mode, it is both invigorating and draining.
Then on top of all; the hurdles we give students in setting up their blogs, we suffered this week through a hacking incident that affected all student blogs (and my own) on the host we recommend. Most are recovered, and while it sets a dark, confusing cloud on this, in many ways it helps expose some of the dark underbelly of the internet. To me, you cannot have the shiny bright kum-ba-ya sharing of the net, without having the slimy stuff…
Jim posted examples of how we countered it, by giving our students a 15 minute rapid challenge to work in groups and create a web story about the character Enre5807. My students got much more animated than during our class discussion given this challenge, relying on tools they knew like Meme Generator: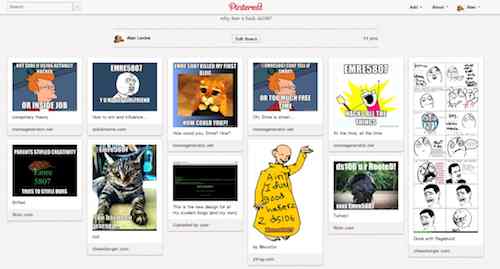 So far Virginia is sporting warm sunny weather I am happy to take credit for brining from Arizona. I owe a big thanks to Jim Groom for setting me up here and for offering me the basement complex at La Maison du Bava, not to mention the warm enthusiasm of the Groom Family, all three kids call me "CogDog".
I've still got a lot to do to get acquainted with the new surroundings.
More to be blogged, just glad to be off the road a while. But I am rather portable…