The future of the StoryBox is subject for a new post. Let's say my new approach is to find ways to release the content by making it available for people to create remixed new works out of the pieces. The original media shall remain in the box, in the time capsule, but can be released by remix.
Here I wanted to share three things I made out of the StoryBox content, as the first public examples.
This video includes a segment of a great set of acoustic guitar that I know by the voices is Grant Potter and Bryan Jackson. In the StoryBox I found a photos and videos of trains, and mountains (well I actually put them in), so it made for good match to the song.
I had really enjoyed the 40 minute set that Grant and Bryan did- they did a fair bit of talking in the middle which touches on the craft of music; and that theme is part of another audio recording with someone else I hope to pull together one day.
I was inspired to do this one because I recorded the audio myself- it was a computer generated voice from a water found on on the NYC High Line trail that gave the 2 minute lecture on water. A lot of the video was waterfalls and rivers I photographed in Washington State and Idaho.
My ast remix is not a video, but an animated GIF assembled from photos I took during my visit to the Durnin farm in Ontario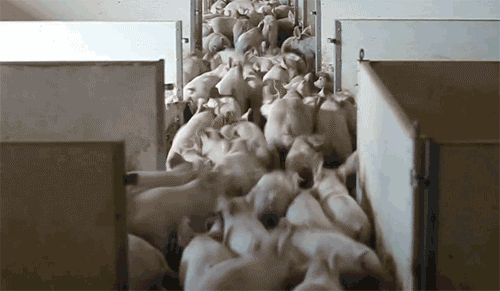 Go, Pigs, Go!
So once more, my StoryBox concept is to set up ways for people to have access to the box, and give them some process/guidance for making new stories out out the contents. I am going to be making this a project idea for my section of ds106; I am going to turn on the StoryBox in every class and am asking students to share some of their un-uploaded media. I am also planning to do this as a workshop March 6 at SXWSedu.
The last bit is that when I run the workshops or events, I am going to direct people to a form where they can let me know the URLs for places where StoryBox content has been let back into the wild– http://bit.ly/storybox-published
I am eager to see what emerges:

cc licensed ( BY ) flickr photo shared by cogdogblog

cc licensed ( BY ) flickr photo shared by cogdogblog

cc licensed ( BY ) flickr photo shared by cogdogblog