In exploring some new tools for rich media publishing, I took a return visit to http://jux.com a site for publishing magazine style media sites, that fill the screen. In many ways, it could be a blog-ish like thing, or a portfolio, or a tumblr that is not just another tunblr.
Maybe I don't know what it is, that's why I play with it. Each time you reload the front page, the items shuffle around a bit. And it also changes the display to fit a mobile browser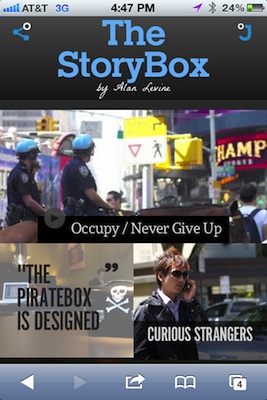 You have 6 different kinds of content, slideshows, single photos, video, articles (like a blog post), countdown (not sure yet what that is), and blockquote.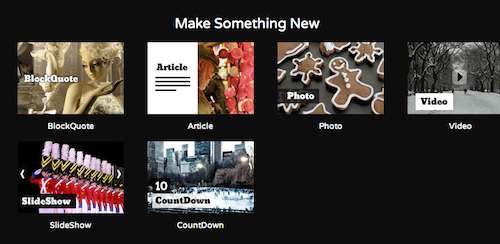 Images can be uploaded or yanked from photo sharing services; videos can come directly from youtube or video. There are some basic layout editing tools for fonts, size, colors (the fonts seem not all work across browsers)- not super sophisticated, but to me, geared towards doing simpler layouts.
So for my experiment, I am creating another site for the StoryBox, and playing with releasing some media that is from inside the box (single photo and a slideshow) and other things like the mashup I blogged about recently.
Jux also offers embed tools (though it seems to curiously be available only to the author when logged in, WTF?), like this summary of the PirateBox
(which sadly is cutting off the bottom of the text, the font sizing from jux appears to be inconsistent).
i'm going to monkey a little more with this as a publishing tool, it has a very "un-web page-ish" feel that appeals to me.