Blogging to you from the outskirts of Vegas…. Las Vegas New Mexico. A guy just got off the train there just for the enchiladas.
I cannot fully explain why I feel at home, reassured by these vast open spaces of rock and scrub brush and sky. I overhear the passengers from New Jersey and Florida and Virginia shake their heads at what looks like a wasteland to people accustomed to malls and golf courses.
It's the light, especially now on the leading edge of sunset, the infinite sky, and mostly a sense if a land do old it does not give a f*** about humans.
Even the tiny hamlets full if rusting rebar, pickups on blocks, heaps on busted cinderblocks…. Appeals to me.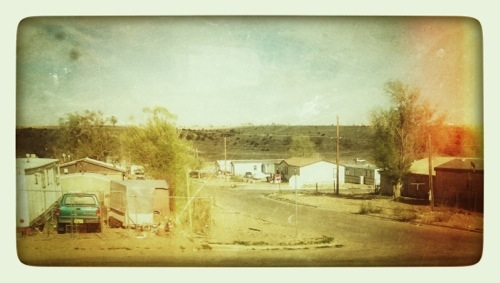 I awoke in Flagstaff ready to roll at 3:40 am. There was a text message that my train was going to be 2 hours late. Do I catch some more sleep? It also said trains can "make up time" (it did the opposite) so it was not worth it to me to risk a miss.
The Amtrak station had a handful of other sleepy schedule victims, we lie knowing we share the same fate. A chatty old lady with a polish accent was eager to talk to everyone. She was sweet. She said "I only went to five years of school but I learned five languages."
Another retired couple from
Pittsburgh asked alot about how different the world was these days. When I mentioned I was from Baltimore, the man got a little stiff necked and said "you know what that means?"
I failed and he reminded me of the rivalry of the Steelers and the Ravyns. "Not my fight" said I. He was immensely under impressed by the Grand Canyon "After you see it and take a photo, there's not much else."
I just smile, not in agreement not in anything I could muster an opinion besides, "Good, we need less people like you clogging that space."
We boarded and the train set out. The space, even in the coach cheap seats is huge! And they recline almost full. Sleeping will be no problem (I already napped teice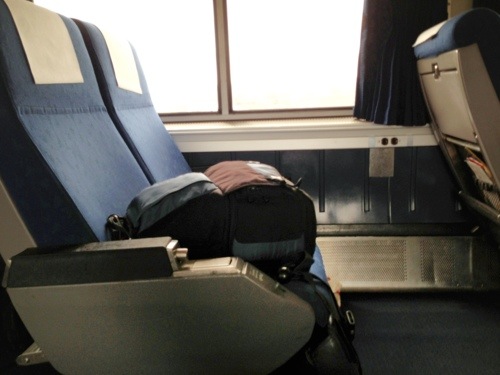 We paralleled I-40, a route I've gone many times, like January of 2013 when I drove to Virginia. We cruised past Winslow AZ, Gallup and Albuquerque NM. I'm reading meaningless novels, taking random photos, did a few mini ds106radio broadcasts, tinkered a bit with my workshop materials for Tuesday, and posted about 4 Cinemagrams. Totally productive.
I ate lunch in the dining car with a retired couple from Rochester. After trading train and travel stories there was not much more I could muster. I might skip the dinner and munch my crackers and cheese I brought.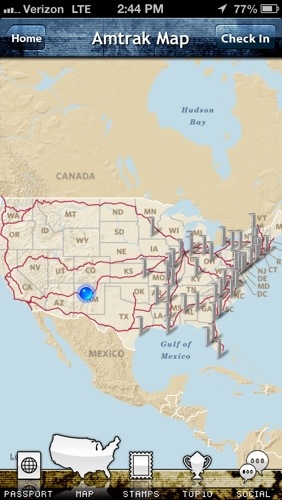 We duck into Colorado tonight and Kansas, friends are messaging me about tornados in Kansas.
Nice.
I'm totally stoked about this pace of travel, soaking it in.