I look a bit too satisfied and confident here crossing the finish line for the Fire on the Rim mountain bike race — this GIF made from two finish line photos they took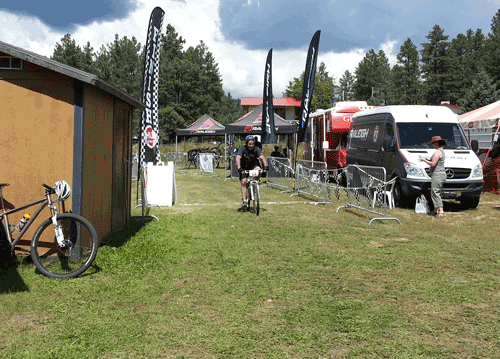 This ride totally crushed me… Yes, I am glad to have finished, but man I was hurting. I went home, took a shower, and was immobile for 4 hours. By Sunday, the stiffness was gone. Yes, I did what I wanted to do, just finish, but the course is brutal and I had really just started riding the mountain bike again a few weeks ago.
It was fun and by some mutual desire to ride this race with Todd Conaway

cc licensed ( BY SA ) flickr photo shared by Alan Levine
who finished in grand form, and snagged his own 106. I think he was done by the time I got to the water tank, not even up to the last climb over the mountain.
I ended up having to push the bike up the severe trail climbs, but managed to stay alive on the screaming downhill into Strawberry… where it was hard not to think I could have just cruised across Fossil Creek Road back to my house.
The rest of the trail drop into Pine was even more brutal, completely unridable by me on Trail 15, with crazy plunges and rocky climbs seemingly uphill while going downhill… I had to walk most of that, plus was dealing with some continually bottoming out of blood sugar.
I crossed the line. Yes that's what counts. But it feels a bit demoralizing. My body hurt as much or more than when I ran a marathon, and when you are out there, it looks like everyone is just having so much FUN, while I am trying to survive.
But.
There is only one thing to do.
Get back on it.

cc licensed ( BY SA ) flickr photo shared by Alan Levine
Maybe next week….