cc licensed ( BY SA ) flickr photo shared by Alan Levine
While visiting Helen Keegan in Manchester (was that 2 weeks ago, I'm in a time distortion machine), I learned about a neat crowd sourced film she and her Salford University student are doing. #NextGenHello is a way to celebrate the 41st annual World Hello Day:
November 21, 2013 is the 41st annual World Hello Day. Anyone can participate in World Hello Day simply by greeting ten people. This demonstrates the importance of personal communication for preserving peace.

World Hello Day was begun in response to the conflict between Egypt and Israel in the Fall of 1973. Since then, World Hello Day has been observed by people in 180 countries.

People around the world use the occasion of World Hello Day as an opportunity to express their concern for world peace. Beginning with a simple greeting on World Hello Day, their activities send a message to leaders, encouraging them to use communication rather than force to settle conflicts.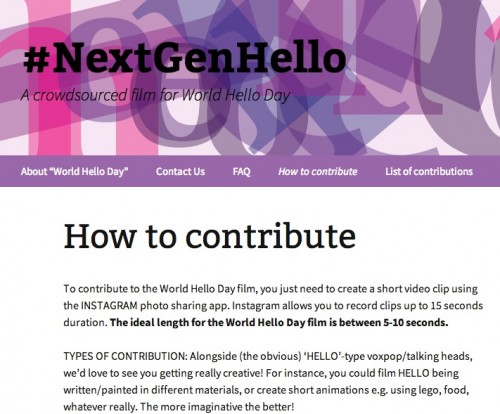 For Helen's project, she is asking that people create a short video in Instagram (it has to be short since the max is 15 seconds) of way of saying hello Here's How:
To contribute to the World Hello Day film, you just need to create a short video clip using the INSTAGRAM photo sharing app. Instagram allows you to record clips up to 15 seconds duration. The ideal length for the World Hello Day film is between 5-10 seconds.

TYPES OF CONTRIBUTION: Alongside (the obvious) "˜HELLO'-type voxpop/talking heads, we'd love to see you getting really creative! For instance, you could film HELLO being written/painted in different materials, or create short animations e.g. using lego, food, whatever really. The more imaginative the better!

HOW TO SUBMIT: Create your short clip, post to instagram and make sure to tag it #NextGenHELLO, along with your instagram username and country (both also hash-tagged). This will allow us to credit your contribution properly in the final film.
Her students (who I got to meet) at Salford will be editing these into a video that will be published on November 21, and the deadline is like NOW. Make a video ASAP.
See the list of contributors or view them at http://statigr.am/tag/nextgenhello.
Hello? Hello! Helloooooooooooo.
UPDATE Nov 21, 2013: The video is published!