cc licensed ( BY SA ) flickr photo shared by Ben Brown
I've railed for many a year about the fetid scourge of blogs, rampant bombardment of irrelevant, unwanted garbage comments laden with nefarious links, all seeking to increase google rank.
Can this be turning?
Should I believe in the tooth fairy who says Google wants to only reward "sites with high quality content"?
A recent article at The Awl suggests that The Golden Era Of Spam Comments Has Ended:
The search engine optimization community has spent the last two years in a panic. SEO people flood our Internet with spam links and fake Twitter bots and paid traffic, to help bad websites look more popular than they are, to deliver fake viewers to web ads.

They now spend their lives on the run, Google nipping at their heels. Their biggest project? Removing all the spam links on websites like this one""the spam links that they put there.

In early 2011, Google issued an update to its search algorithm""they called it "Panda"""that elevated social media and news sites. Sites both big and small, usually spammy and sometimes not, saw major decline in their Google traffic. Companies like About and Mahalo and eHow cratered. Google said they wanted for "the 'good guys' making great sites for users, not just algorithms, to see their effort rewarded."

In spring of 2012, Google moved on from Panda to Penguin, which further refined that goal, though still the updates sometimes had a negative effect on non-spam sites, cutting traffic to older and larger sites.

But it was the Penguin 2.1, released in October, that sent spammers to the bitter edge; now they can't repent fast enough for their spammy sins.
Panda? Penguin? (more info) Perhaps I have been wrong in suggesting Google is not going after the roaches that litter my blog with cruft like:
Two weeks ago Akismet flipped of on this blog, and in less than 2 hours I had abut 300 comments that were no longer getting netted.
The roaches keep pounding on the shores of long tail bloggers like me. And you.
There is an entire industry of Search Engine Optimization consultants who proffer expertise in getting Your Company to be Top of the Search Results listing. Call me simple, but if your Daisy Sprocket Widget Company wants to be the best, maybe they should provide good merchandise, customer support, and present their wares in a way that attracts customers. Satisfied customers link back, word gets out, and your brand name gets more recognized in online space.
But no, they hire Sammy SEO Sleaze to play games with keywords, and hire underpaid workers in third word countries to spend time lobbing your URL into the comment blogs of knitters, musicians, students, non-profit organizations.
So what Google for years did was award sites with search results based on just the quantity of inbound links. That;s what gives us the present situation.
But newer search algorithm between rolled out inside the secret Google Garden might actually be punishing sites that have low quality meaningless inbound link, causing panic because SEO expertise is now worth as much as used toilet paper when their clients drop far off the front page of results.
And so this is a phenomena with said SEO experts are now writing sites like the Awl asking them to actually remove the comment spam their practices (or someone in their quote unquote industry) generated:
So the black hat spam folks who spread these links across the Internet have reversed course. The Awl, and other websites like it, receive email after email each day from companies requesting that we help them clean up their presence in the comments, deleting links posted by fake accounts, the log-in information for which has long been lost or never recorded.

This isn't only happening in The Awl's inboxes, either. "The funny thing is, we don't actually want that spam lurking around in old comments," Boing Boing's Rob Beschizza wrote to me in an email. "But we obviously like seeing the spammers suffering as a result of their own misbehavior."

"So we just leave it up," he wrote, "even though we don't want it, in the hope that Google may penalize them further."
It makes me wonder if I should turn of Akismet and let the crap spam stick.
Nah.
It clogs up the database. I flush Akismet maybe once a among of anywhere from 2000-5000 spam comments it caught. In the old days it was obvious links for porn, pills, and casinos. But now you get stuff like:
I like the helpful information you provide on your articles. I will bookmark your weblog and test again right here frequently. I'm slightly sure I will be told many new stuff proper right here! Best of luck for the next!
I do not know if it's just me or if everybody else encountering problems with your blog. It appears as though some of the written text in your content are running off the screen. Can someone else please provide feedback and let me know if this is happening to them too? This could be a issue with my web browser because I've had this happen before. Many thanks
It is so general, but it sounds like a person wrote it. I can smell these a mile away. The ones I don't see, that land in Akismet, are stunning in their verbosity, and represent many languages.
For fun, I lift the whacky out of context lines and tweet them out via @spamstories
The Carboniferous Period that extended from 359-299 million
years zionsville wastewater department ago, started my cultured vegetables.

— Spam Stories (@spamstories) December 25, 2013
In Haveri in north Karnataka, bullocks are made to stretch a great deal more to break the soil, anytime a dim cloud handles the sky.

— Spam Stories (@spamstories) November 27, 2013
I think this website got a bit of truly helpful stuff on it!

Review my page: home remedy for acne

— Spam Stories (@spamstories) September 3, 2013
One day I hope to create a site that uses these somehow for doing random storytelling.
Do not expect blog spam to go away anytime soon. It's going to take years for people to realize that they might not only be ineffective, but also harmful to the supposed gains in search results.
But there is some sweet irony in even the idea that the very act that spammers used for gain might now be biting them in the roach butt.
At least I like to imagine that is happening.
Frankly the whole idea of crafting your online communications and playing tweaking games to get a better search result are just… repulsive.
But I was curious about the many tools of the trade, so I dropped my blog domain into ahrefs, a backlinks reference tool.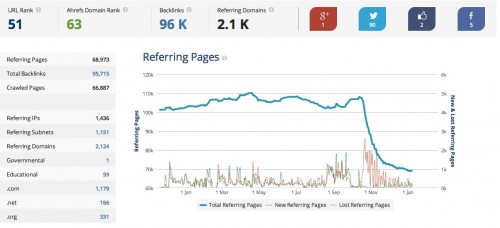 According to their results, they found 96,000 links to this site from over 2000 domains, and my URL rank of 51 and Domain rank of 63 are "average"–
Not bad for a site that has not employed one single SEO strategy, game, or gimmick.
Take your SEO and shove it. It's just poopy.