cc licensed ( BY SA ) flickr photo
shared by
Romain Guy
Teaching a class of tens, hundreds of thousands has shown to be newsworthy, but what about at the other end of the telescope? How do people perhaps new, or not, to such a massive environment manage if they feel they cannot be heard? Or are not even eager to try? It's one thing for a teacher to deal with the quiet kid in the back of the room (she knows something of him), but what of the quiet students who do not even see? What happens if they brave a question that falls in the woods of the forums like the unheard tree?
We hear much about people grappling to teach in said giant classes, but what of students learning how to learn there?
All of this stems from my own experience this week in the greater than tweet-length "The History and Future of (Mostly) Higher Education: Or, How We Can Unlearn Our Old Patterns and Relearn for a Happier, More Productive, Ethical, and Socially-Engaged Future" (hereto after fantasically abbreviated as #FutureEd) being led by Cathy Davidson.
Like the tagline for Aliens about in space no one can hear you scream… how often in a massive course does no one hear you ask or speak?
In a massive course no one can hear you ask a question?

Still no idea; what was April 22, 1993? http://t.co/6GmRlOCvM7 #FutureEd

— Alan Levine (@cogdog) February 1, 2014
My question arose from the first week's videos for #FutureEd about Cathy Davidson's repeated assertions about all that happened on April 22, 1993 (and yes I know it was the day Mosaic 1.0 was launched) (and yes I know of the Wired link, it's in my post). So my first level of asking a question was my blog post which was tweeted with the tag. I also posted a question in the course forum someone else started with the title "April 22, 1993" — I went there expecting some discussion about my question, but it was more scattered.
In response there.
A few tweets later, and thanks to some followups by John Becker
@cogdog I believe @CathyNDavidson answered this last night. This is the reference, I think: http://t.co/UaqmCtiN4z

— Jon Becker (@jonbecker) February 2, 2014
Cathy responded, and in volume
I'd argue Mosaic 1.0 = populist product flowing from NCSA scientists + Gore's 1992 FCC revamp. @cogdog @jonbecker

— Cathy Davidson (@CathyNDavidson) February 2, 2014
and Phil Hill made soure I saw both the extended response from Cathy on her HASTAC blog and a comment on my own post and in twitter
@cogdog Did you see this yet? http://t.co/gtWq9kO0jX

— Phil Hill (@PhilOnEdTech) February 2, 2014
and I could not be more content with the answer. Whether anyone is "right" or not matters little, but dialogue does. I might not feel like you can associate causation between discrete events; hence my comic reminder that other influences in 1992
@CathyNDavidson @jonbecker Cant argue; video imply all same day. Dont discount impact of 92 release of Waynes World; Canada 1st world series

— Alan Levine (@cogdog) February 2, 2014
Again, having such a conversation did much for my own understanding, especially given Cathy's explanation of her role at that time. Heck I was just a green horn ed tech new in 1992 (photos exist of me in a tie and mullet with relevant annotations).
My only point here is I have been around the internet game field a while, and know a few things about trying to get attention. I can benefit from a network of others that chimed in. I know to ask a few times, and also not to get bent out of shape. I've had experience in the environment.
But how do others new to this learn this? Sure you can create documentation and FAQ and tutorial videos, but people learn this through trying, experience, and… well, how do we make it something not difficult to advocate for oneself in a mega massive (or for that matter any size) course? It's no different from the campus experience, when some students will learn to use professor office hours, to stay after class to ask questions, to sit in the front, etc, all as means of being advocates for their own learning. Not many do this in person either.
Just sending people to the forums is like sending someone form the country to New York City wit $100 and tell them to find a good place to eat (this metaphor is leaking already, ok?). Where do you even start? Forums are not an answer on their own.
Anyhow, I am thankful for the experience to remind me how people can easily be reinforced to be quiet in an online class. And I must have over-used my allotment of Cathy Davidson individual attention; her reply was not just detailed, it was personal, and she showed her personality, guessing "CatintheStack" is a nickname?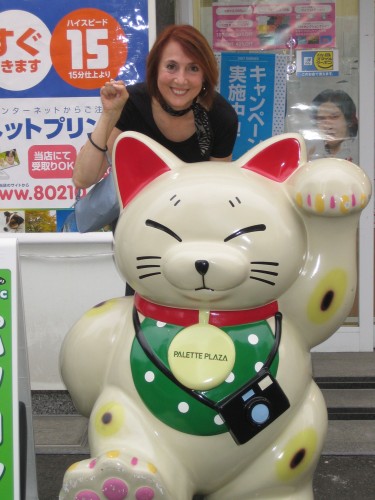 Cathy does suggest that she will stay with the video format as it is more or less "what people expect":
Unfortunately, the format of the weeks continues to be mostly lectures and reviews. I went with that because there is a subset of MOOC participants who really loves it. I don't deviate from the lecture format in any thing like the way Al Filreis does at Penn and many others–or that my own online open learning network HASTAC does in its various Forums and projects and has since 2002. The movement part comes by building on the MOOC. Sometimes it's a project.
It does see an assumption that the video lecture is needed, much the same when Jim Groom started teaching ds106 and people said he had to run synchronous sessions in things like Elluminate/Collaborate. When I joined him and Martha Burtis in teaching sections of ds106 online we managed to do so without any lectures.
It is possible.
Also
I also want to comment on the quizzes. I am a consistent critic of multiple-choice standardized summative testing, in my research and writing and in the MOOC. But that's the format thousands want. So at the very least I try to turn every test into a summary and therefore a study guide–there is no (intentionally) false information on any quiz.
I read between the lines that she is trying what she can, and it is a first time effort, to change up some of the form; yet it begs a little of the question she poses about whether we are designing learning for the present generation or the future one. If Cathy's own answer is what we all suspect (it's a bet of a setup question anyhow), then we will expect to see her use this experience as a platform to start changing people's experience.