The LAST thing I should be doing now is tossing out another unpaid project to work on, but oh well, I cannot help myself.

cc licensed ( BY SA ) flickr photo shared by Alan Levine
I was in Cambridge MA in 2010 for a meeting, and visited the MIT Press bookstore where I got these two books. The 2006 published New Media Art intrigued me both for its collection of web-based art projects, but also that it was focussed on the early part of web history, which in many ways was mine too, from the early 1990s into the 2000s.
The book has sat idly on my coffee table, and a "one day I might do" idea percolated- to revisit the 35 some sites in the book, to see if they even still existed, if their funky old code worked, and explore them in context of the quote/unquote modern web. It seemed like something worth doing as a tumblr site.
For some reason, tonight I sat down to at least set it up (and in the process get more familiar with), so here comes (re) New Media Art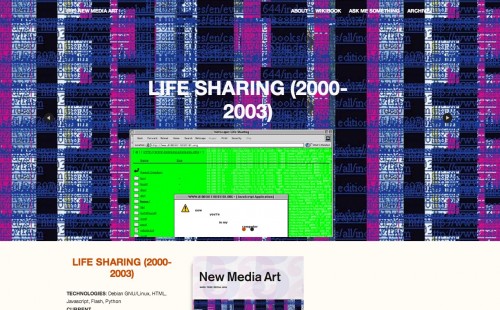 I plan to try and revisit a site a week (like that schedule will hold up) as a new post. I might was well go in order, so tonight, I wrote up Life Sharing (200-2003) a mind blowing experiment of uber openness. The pair of artists turned their primary home/work computer into an open server, so anyone could not only see, but also manipulate anything on their computer– emails, work proposals, credit card statements. Kind of like making PRISM un-necessary.
It was a crazy project.
That's what artists do.
I don't have much to stand on as an art critic, and when you read through reviews of the book, you find raves and dismissals of "just net art". Whatever.
I'm mainly intrigued in finding out how many of what are vintage web art projects are still even alive, and of those, which might still be functional in 2014.
There is also a lot of interesting ideas on the forward, and putting these pieces in previous (video art, and the earlier Dada-ists ) and later forms (modern game art). The hinge point here was how the low technical level of entry, the global reach, made it an art form anyone could do, not just those with heavy video production expertise.
Compared to other forms of New Media art, Net art was relatively inexpensive to produce, and therefore more accessible to artists with limited financial means. Many of the core technologies, such as the Apache Web server and Hypertext Markup Language (HTML), were available for free. All an artist needed to make Net art, besides ideas and technical skills, was a computer (even an old one would do), a modem, and an Internet connection. Although such connections were expensive for those who lived in countries where local telephone charges were high, many New Media artists found ways to access the Internet for free through public libraries, universities, and corporations. For many New Media artists, day jobs as programmers or Web site designers provided access to the tools of production (computer hardware and software), speedy Internet connections, and in some cases, valuable training.
I am finding so much here relevant now, e.g. the section "From Appropriation to Open Source"
In New Media art, appropriation has become so common that it is almost taken for granted. New media technologies such as the Web and file-sharing networks gave artists easy access to found images, sounds, texts, and other media. This hyperabundance of source material, combined with the ubiquitous "copy" and "paste" features of computer software, further eroded the notion that creating something from scratch is better than borrowing it.
Do you think this might have any overlap with ds106?
Yep.
I'll use my syndication tricks to bring in the tumblr posts to this blog, tagging them renewmediaart. Because I can!
Lastly, I was really excited to find that co-author Mark Tribe has made the entire book available in wiki format on a server at Brown University. I can dig it.
My only reason is the curiosity and nostalgia of mainly the 1990s era of the web, like Radio Free Linux which had a text to speech synthesizer broadcast to FM radio the entire Linux kernal, a performance that lasts more than 590 days
And 'cause that is the era I got to live through.