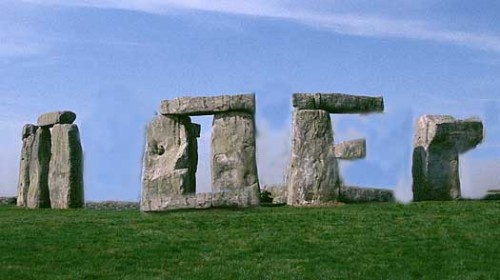 OERs have been built in the UK for a loooong time. I am headed there in late April to investigate.
My open ds106 colleagues Mariana Funes and Rochelle Lockridge and I submitted a paper for the OER14 conference in Newcastle.
We submitted A DS106 Thing Happened on the Way to the 3M Tech Forum as a case study of how Rochelle integrated the Headless ds106 open course as an experience inside the corporate intranet of 3M. The whole idea changes a bit of how one thinks of open, that there can be layers of open, and that with someone with Rochelle as a connector, a wide open course has value inside a company.
For more on that experience, see Rochelle's usually well detailed post 3M+DS106+P2PL=OER14+M2M, including a video she made created from interviews with her participants.
Without any travel budget my thought was to have Mariana represent us and do my part remotely. But in thinking about the version of ds106 I am teaching starting in March for George Mason University (students in an Instructional Technology grad certificate program are employees of Deloitte) it seemed like this was an opportunity well worth being there in person.
Copying from Rochelle's post, our abstract…
---
Title: A DS106 Thing Happened on the Way to the 3M Tech Forum
Authors:
Ms. Rochelle Lockridge, Strategic Analyst, 3M
Mr. Alan Levine, Educational Consultant, CogDog It
Dr. Mariana Funes, Cognitive Coach
Introduction:
DS106 (http://ds106.us) is a computer science course in digital storytelling at the University of Mary Washington (UMW), framed on principles of the web as a platform for storytelling. Students learn to manage their own digital domain in the process of understanding storytelling and creating media. In 2011, ds106 opened up to a global community of online participants.
This case study explores how DS106 tools, methodology and philosophy were successfully adapted into the corporate world at 3M to build community, collaboration, and effective global communication skills.
Participants in 3M-DS106 were based in Minnesota, Texas and California. A majority were active members in the 3M Technical Collaboration chapter, a subset of the 3M Technical Forum (12,000 plus global members), which fosters communication across a diverse technical community.
Our hypothesis was the pedagogy and assignments of the ds106 open course could be modified for delivery on a corporate intranet, using internal creation and communication tools standard for 3M employees. We hoped to learn how the course experience could work within cultural and technological constraints of a corporate environment.
Methods:
The open ds106 course evolved from years of undergraduate courses at UMW. With no course offered for Fall 2013, a teacher-less open online version was built from previously offered classes.
3M-DS106 began with an open invitation to several hundred users on Spark (3M's Twitter equivalent for their technical community). As a network connector, Rochelle Lockridge customized and re-published assignments from the open ds106 class and shared back to the open community the activities of the 3M participants.
The 3M-DS106 structure included weekly online web meetings held over lunch, to discuss assignments, which were done independently using 3M blogs and Spark as communication tools.
Results:
The 3M participants were interviewed at the end of their experience. Their blogs record their growth and reflective practice. In narrating their processes, they found value in giving and receiving feedback via comments, and were developing a greater capacity for relationship building. With more comfort in using creation tools and 3M's social networking platforms, they increased their effectiveness for technology transfer.
Participants identified a need and desire for integrating the course experience into their technical work. Using tools in real time on 3M related projects within a community of learners to provide support, was deemed a highly effective practice.
Discussion:
The global 3M environment demands a quicker flow of information/ideas in a mode that is more conversational than the corporate norm, with the added challenge of consideration and protection of proprietary intellectual property.
With the success of this experiment, the 3M Technical Collaboration chapter will sponsor a yearlong 3M-DS106 course to provide participants more time, flexibility and practice with a monthly focus on topics, and incorporation of more communication tools specific to 3M.
This experiment shows that an open course can be adapted in a business environment, but more importantly a community that is larger than a single course enables success when the boundaries between groups are blurred.
***************************************
REVIEWER COMMENTS: Our abstract rated excellent for communication and overall impression for 2 of the 3 reviewers.
REVIEWER 1: I couldn't imagine from the title what to expect from this abstract, but reading it gave me several moments of pure, unadulterated OER joy. I imagine this will be a VERY popular talk at the conference as it exhibits a rare "" and highly successful! "" interaction between an online, open course and an unrelated major corporation. This looks to have been a *very* important experiment and one of which the OER community needs to be aware, as OER segues into the mainstream. I wholly endorse acceptance of this paper for OER14.
REVIEWER 2: Excellent, this is a unique and engaging study that will attract large participation at the conference. Challenging corporate and open education norms with insights from participants working across groups and pedagogies, this abstract offers an unanticipated angle on the much loved DS106.
REVIEWER 3: I am very interested to see how these techniques translated to the corporate world and what 3M perceived value is as well as the participants.
---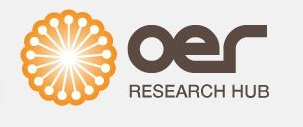 And while in the country… it's just about finalized, but thanks to Martin Weller I am spending a week at the Open University to contribute to the OER Research Hub. My plan is to coordinate with my colleagues at the Maricopa Community Colleges who are part of a system wide OER project to connect their new OER efforts to the research bank, and see what we can gain from use of the research map.
OERs… they might be curious stone objects, but they also can have lasting value. That is the investigative plan.