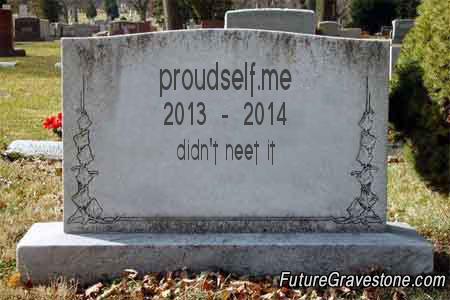 In August 2013, I summarized the status of the domains my previous 81 students at UMW had made. Few from 2012 kept their domains, and then, at 6 months after the Spring 2013 class had ended, 20 out of 22 of the blogs from the Spring 2013 class were still there.
That was then.
While looking for some examples of student blog posts today, I returned and found only 6 were still online, or 27%– 16 domains were expired.
It's not a judgement, and I hold on to the idea the a Domain of Ones Own means One Can Delete the Domain Whenever One Wants To. I do however, feel the loss of the record of that body of work, the links from the assignment bank will need a run of my reaper script.
And maybe its no different from my own educational experience; I tossed every notebook, paper, and artifact of my undergraduate experience.
I can guess a few reasons- this group was still the year of the DoOO pilot; many of the students were seniors, and so are not needing it for this year, and I know of at least one who just did not read their email and missed the expiration notice.
And of the six that are still online, they do not surprise me. They were among the best students in the class, who maybe seemed to grasp that the experience was broader than just a course (I may be projecting, sue me).
The concept is just such a new idea to not just teachers, but students. The value of having a public web space of their own history does not seem to happen to a bit more down the road. It will be interesting to see how this progresses with DoOO being more established for UMW students.
A blog doth die, it maketh one to cry.