Material for an eventual True Story of Open Sharing, my photo is on the cover of Beautiful Wreck a novel by Larissa Brown.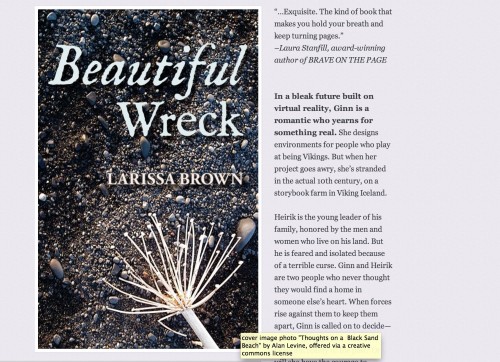 In a bleak future built on virtual reality, Ginn is a romantic who yearns for something real. She designs environments for people who play at being Vikings. But when her project goes awry, she's stranded in the actual 10th century, on a storybook farm in Viking Iceland.

Heirik is the young leader of his family, honored by the men and women who live on his land. But he is feared and isolated because of a terrible curse. Ginn and Heirik are two people who never thought they would find a home in someone else's heart. When forces rise against them to keep them apart, Ginn is called on to decide""will she give up the brutal and beautiful reality of the past? Or will she have the courage to traverse time and become more of a Viking than she ever imagined?
Larissa emailed a few weeks ago requesting use of my photo on flickr

creative commons licensed ( BY-SA ) flickr photo shared by cogdogblog
This was taking on a beach named Vik in Iceland I explored during the magical November in 2008 I spent house sitting near Selfoss. Larissa's first message was one of those which suggests that while people do not need to ask permission for use of creative commons licensed media, it is a bonus to me when someone does– because otherwise I might never know where my photos go.
I'm writing about one of the photos you offer through the creative commons.

I've spent time reading your blog posts on the topic, which led me down many paths about creative commons. So rest assured, I know I don't have to ask permission. 🙂 However, I'm writing because you might be interested, and also to ask if you would provide a higher resolution photo for me to use in print.

I'm the author of a novel that was recently published by a small, indie publishing company, and I'd like to use your photo "Thoughts on a Black Sand Beach" as the basis for a new cover for my book. I have always loved this image of yours. Part of the novel takes place on a fictional black sand beach in 1oth century Iceland (it's a historical love story.) I modeled it after Vik and visited there as part of my research.
And also, your photos need not be ones taken with a big honking DSLR to be useful for people's projects– in 2008 I was using my compact Canon IXY 9000, the original only 1400x2000px. I ended up resampling in Photoshop and doing a bit of sharpening to get Larissa an image in the specs she provided.
And she promised to mail me a copy of the book when it is out.
Neato-o-rama.
Once again, if you do not want to be bothered by requests like this, make sure you copyright your images or better yet, keep them off the internet; that is the best way to ensure you will avoid any Amazing Stories of Open Sharing.