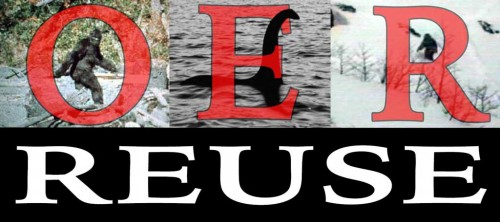 They are out there…
At the crack of 6:30am Friday I was doing a remote presentation for the Ontario Universities' Council on e-Learning (OUCEL), via request from  colleagues there. Given that hour, I took some liberty with the seriousness and invoked the metaphor of the passion and conviction of those that pursue Sasquatch.
I'd studied a bit- Pure Science Specials – Bigfoot Monster Mystery, and loved the conviction of the opening narrator describing his experience. He did not see it, but he sure believes
Finding stories of OER reuse- are they as elusive as Sasquatch, Nessie, and Yeti (and as I learned, British Columbia has there own, but I cannot even try and spell it)?
I had some fun making my teaser video- driving up to the forest, traipsing around in black camo face and lurching around with a sweatshirt over my head
I put out a call for stories and collected what I found (or repurposed) into a special display area of True Stories of Open Sharing.
I got a grand total of 3 4 stories to the site, a few more tweeted to me.
There is a story in that.
I also got a lot of links to OER resources (not a story), collections of OERs (not a story), and blog posts about OERs (not really a story, but I bend).
Maybe the nest part was the night before finding some Big Foot GIFs on giphy.com — they loop nicely in Google Presenter

This was the perfect one to use after talking about the low number of stories found (a screen shot from the presentation); the word "it" is in the original so I made use of it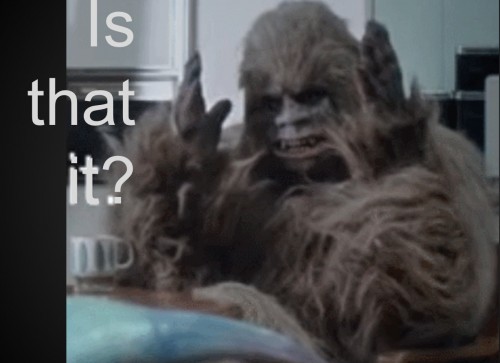 It's not worth it to present by just playing videos, so I paraphrased the ones in the collection
But I have a special shout out to Clint Lalonde for not only doing a great story as a video, on a great reuse project, but also for getting in the spirit of the academic tone of my presentation
That was one worth playing in entirety, not just for the way Clint did it, but the relevance to the Open textbook project he shared.
I also included two of the audio interviews with Maricopa colleagues I did for my (still to be finished, I promise, Martin!) project with the OER Research Hub.
And also I really want to thank Irwin Devries for sending in a great video (I only saw it in the morning Irwin)– I appreciated what he had to share, and his opening Telecaster playing
https://www.youtube.com/watch?v=h_B8x20b9lg
I had full intent to do a live audio stream on ds106radio and/or record my presentation. The night before test with audio mixing in ladiocast, and output to record in Audacity was perfect. But in the morning I was generating some bothersome static noise, so I just did it live.
You can find the Google Docs presentation and resources at http://go.cogdog.it/oer-bigfoot.
I'm likely doing another round of this on my September trip in New Zealand, so do not think I am done harassing you for stories.
When you send stories in, this is how I feel