This is not just a presentation prop for my presentation nostalgia trips to the past, pleasantly seated at my hosts breakfast table in Auckland, I am drinking coffee in your future. I tracked on the flight over not just the crossing over the International Date Line, but the way it jags, we actually went over, back, and over.
In the old TV shows, at such junctures the ships would violently lurch about.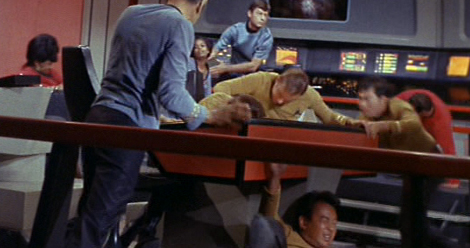 After my arrival yesterday, my hosts Richard and June took me on a sunny walk where I think they've taken me before, Milford Beach, and I could see a familiar landmark.

creative commons licensed ( BY-SA ) flickr photo shared by cogdogblog
I'd seen it from a different point, Campbell's Bay Beach almost exactly 10 years ago, on a visit here in 2004

creative commons licensed ( BY-SA ) flickr photo shared by cogdogblog
And if you squint you might see me here in 2000
If you zoom in on these photos through my time tunnel, way on top of the not so old volcano, way way in, from a trip out to hike Rangitoto in 2000
I was trying to remember other places I went on that trip in 200, which was the start of a 2 month journey around both New Zealand Islands. While my memory is fuzzy, I have recorded all kinds of details in my more reliable memory, a web site of that time period. In every essence this is a blog, though it had no name in 2000.
I knew I visited someone north of Auckland, spent a weekend at a lovely estate, but could not remember who it was, where it was, or how I even knew the person.
Fortunately I have some backup — on September 17, 2000 I took a bus from Auckland to visit a guy named James in Orewa. And, as I read my own notes, he was the best friend of Paul, the first New Zealander I knew. Paul as a researcher at ASU when I was in graduate school, who became a friend too, and I was present sometime after grad school at his wedding in Tucson. James, was best ban at Paul's wedding, and when I planned this trip to New Zealand, I must have contacted Paul (someone whom I cannot now even recall his last name).
What really were likely just a way for me to process my daily happenings on the trip (and to communicate to family home), now turns out to help fill in the memory gaps:
Orewa is a beach town on a stretch of white sand, nestled between some low forested headlands. Like most of the beach towns here, it is relaxed and devoid of any crass commercialism. James' house is farther north, and I was curious as we drove off the highway up a steep gravel drive through the woods. We drove, and drove, and some 1/4 mile later we had reached then end of his driveway! His house is in the lush forest of some 60 acres, above its own beach. The views across the bay to Orewa are spectacular. I was also introduced to a 20 year-old house cat named EPROM.

That night we watched the entire opening ceremony to the Sydney Olympics, from the lower "cottage"– actually the original 1930's era homestead for the property. If you were among the 3 billion television audience, you know what a glorious spectacle this was. If you were among the 110,000 in attendance, then you know even better than me about it. I cannot even imagine planning such a production.
Does this data matter to anyone? Not the point.
Now, 14 years later, I treasure my compulsion in recording the "bits and bobs" of what likely are mundane details at the time.
But looking back through the tunnel, well I find it incredibly valuable to have the bits. And the bobs. And the James.
And so I wonder, in my current state of writing, posting, what I am I making that will be of value to myself in the future? My blogging has changed, and I find much less of details of places I go, things done. More goes into my flickr stream, which is now my own memory box. But what about the time spent that we put into social media statusing, the Mike Caulfield StreamMode — does that go anywhere useful, or just does it stream on by?
Am I the only one who cares about this? Or is everyone scrambling for the next thing?
I don't actually care, I am going out to a market.
And remembering a 20 year old cat named EPROM.
Hey.