I was roaming around my dashboard and found a 6 month old post lingering in the draft. I am not even sure why it was left in the draft drawer). Oh well.

creative commons licensed ( BY-NC-ND ) flickr photo shared by hawkexpress
I do not think I have ever finished a coding project. That does not bother me.
Thanks for the positive feedback on the new flickr creative commons attribution tool. I've been using it a lot myself, after all that is who I made this for.
Apparently someone else has a similar tool. They got boing-boing-ed. That's cool.
And apparently flickr has made some changes already, going back to displaying the actual license with icons, and moving the info to a more primary area.
I did get a comment from Dr Klaus Graf suggesting that proper adherence to the license means providing a direct link to the license.
That is now available; I just changed the output slightly to the first part (that mentions the license) links to it and the second link (on flickr photo) links to the photo.
And guess what? Since all the work is done on an HTML file hosted on github, you do not need to change anything; the same bookmarklet generates the updated code. Gosh, I think I might be clever-ish.
So if you have a bookmarklet, just keep using it. And new attributions have the new format. If you have not tried it yet, just make your own tool at http://cogdog.github.io/flickr-cc-helper/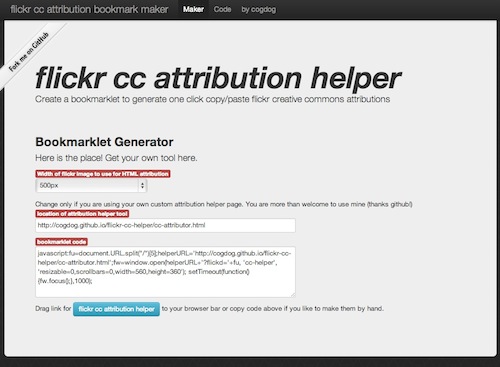 I am not quite sure if I should add the license link to the text attribution. I bet Dr Graf would say YES, it just seems to be a long chunk. I guess if the link is at the end, you could delete it. Or I could make it an option when you make a bookmark.
I can make these changes… cause its my code. And if you want it do something else/different- fork it baby.