(Yes I know I mangled the French language in the title. That's on purpose.)
This is a scarf.
Just an object.
I've been wearing it daily for the last week since the weather here in Kamloops turned cold, the high daily temperatures are sometimes as high as freezing temperature.
Not until this morning, looking at its soft curvy shape under the morning light that I saw much more than object.
A scarf.
It's my Mom's touch.
She knitted this scarf for me sometime around 2008 or 2009, using the classic stitch she used when she made those fisherman sweaters I wore as a kid.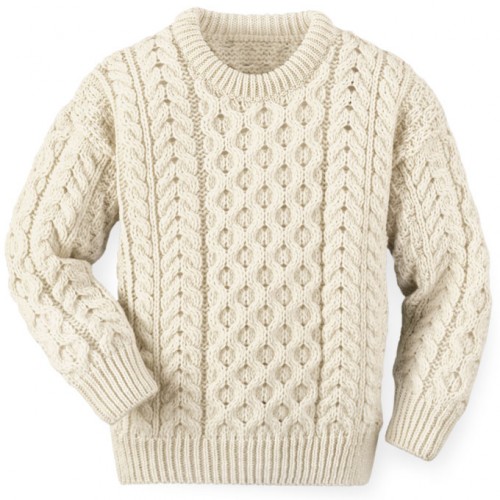 The ones she made looked like that photo, there was some trick she had in washing it that she could make it grow, so the same sweater I wore at 5 I probably wore at 14.
Maybe I exaggerate.
A year before Mom made me the scarf, I went to visit her in Florida. She told me the surprise project she was working on, a new fisherman sweater for me. She had the back and the side completed, hanging in the closet, and she wanted me to try it on so she knew how much she would need to close it off.
Not even close.
Oh, how we laughed at how off were her estimates of my size, it was no where near something I could possible wear. Well not in this century.
I am not sure if she finished the sweater and gave it to someone else (smaller) or if she re-purposed it, But it was not long before I got this scarf in the mail.
This object, this thing of woven yarn, just became that more special, her love embracing me daily. I miss you so much, Mom. Sometimes in the rush of things, I briefly lose track… and then it just jabs me again. It's a playful jab, as much as those laughter filled phone calls I remember.
This is a scarf.
It's woven of love.
I feel it.