I keep a TV on mainly as having some background sound so it's not so empty in this apartment. I was not even watching what I left on, my the tone… the frequency of the actress was so brash, yet alluring.
And thus I fell into a Mae West rabbit hole.
How little of this amazing persona I knew; I probably had some image of black and white film featuring a fast talking woman dangling a cigarette. I used to eat in a diner in Tempe, AZ called "Mae's West".
And that was about it. But TCM had showing I'm No Angel, her 1933 film with Cary Grant. In which she is a totally dominating figure, especially in attitude.
I actually caught the tail end of the movie, the courtroom scene. I got distracted from the info on the intertubes.
To this day, West is known for her one liners, wisecracks, and blatant sexuality in an era that was not exactly receptive to that type of behavior on the stage and screen. In fact, West was arrested in 1926 for writing a play simply called Sex. The trial which followed that arrest is probably what inspired West to include a courtroom scene in I'm No Angel in which she takes over and cross-examines the witnesses, something she probably wished she could have done in her own situation.
Who was this woman, who is writing plays called "Sex" in the mid 1920s? I did watch the courtroom scene, and she not only has the wise lines, her affect and body language totally dominate.
You only live once, but if you do it right, once is enough.
— Mae West
I am curious about this incident, track down a link to a 1927 Boston Globe article on it. Avast, it's a Proquest abstract. You have to either buy or log in as a subscriber to see a newspaper article from 1927?
Not me.
I ask for help.
Any subscribers to Boston Globe willing to get archive copy of article form 1927? WTF Proquesting it behind a wall? Pfffffft

— Alan Levine (@cogdog) December 2, 2014
Jeffery Keefer comes through in like 12 minutes flat.
The article has almost nothing in it. It does not even mention Mae West, just that a judge let the 22 accused cast members waive examination to they could perform the show that evening. I'm tempted to screenshot the article just to thumb by nose at copyright. But those lawyers….
There's a much better article in the New York Examiner which I can not only read, I can quote from:
Actress Mae West called it a joke when police charged into Daly's 63rd Street Theatre during her risque comedy-drama "Sex" – about a hooker angling to marry a rich man – and arrested the entire cast for indecent public performance. The thirty-four year old native Brooklynite and her cast found themselves hauled off to the Jefferson Market Jail at 425 6th Avenue. The five foot tall West, best known for her sassy wit and her double entendres, sat in her holding cell and laughed still more at the hypocrisy. Her show had been hugely popular for almost a year before the NYPD raided them. 325,000 people, including top cops and their wives, had already seen the play.
This is what society concerned itself about in the 1920s…
The trial dragged on for nearly three months. She was prosecuted for "corrupting the morals of youth." West stated that her play was artistic; her attorney added that "Sex" was a morally instructive drama. But Judge George Donnellan, who presided over the case, said that a guilty verdict would be more fitting. On April 19, 1927, after they had deliberated for six hours, the jury returned with their guilty verdict. She was sentenced to ten days in the Welfare Island Prison (now Roosevelt Island) and fined $500.

Inside the prison, West was impressed by her fellow prisoners' life stories; she secretly took notes on her surroundings, which she later used as basis for all her future characters. Upon her release after eight days (she got two days off for good behavior), she commented to a reporter, "If I wanted local color, I sure got it in that place."
I find an "official" web site which is clean and polished: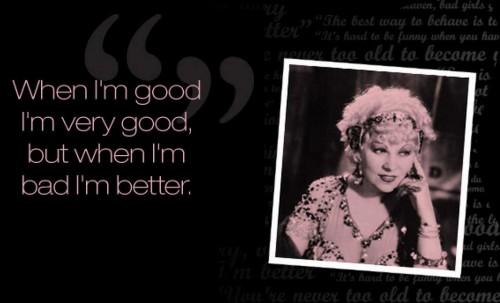 Her Wikipedia article is so dense with information (138 footnotes, take that Boston Globe), I'm not even sure where to start.
An ounce of performance is worth pounds of promises.
— Mae West
That resonated with me over the notion of courses that talk about stuff versus courses that DO stuff.
Maybe the thing I find most mind blowing is the Mae West NYC blog, which has been publishing rather in depth articles since 2004. Ten years.
Thank you for reading, sending questions, and posting comments during this past decade. The other day we entertained 1,223 visitors.

The Mae West Blog was started ten years ago in July 2004. You are reading the 3058th blog post. Unlike many blogs, which draw upon reprinted content from a newspaper or a magazine and/ or summaries, links, or photos, the mainstay of this blog is its fresh material focused on the life and career of Mae West, herself an American original.
Look at almost any post, say Mae West: Arrested Decay (January 8, 2008), I found as part of my search on this flap over Mae's audacious play.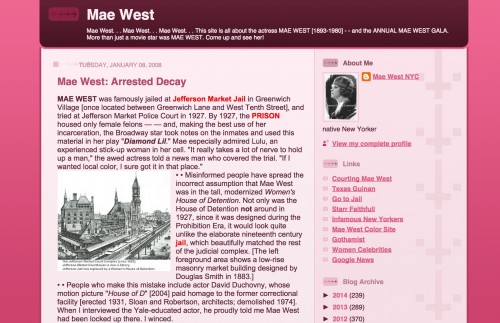 Bear with me a long quote; can anyone not see this as incredible non peer reviewed research?
MAE WEST was famously jailed at Jefferson Market Jail in Greenwich Village [once located between Greenwich Lane and West Tenth Street], and tried at Jefferson Market Police Court in 1927. By 1927, the PRISON housed only female felons — — and, making the best use of her incarceration, the Broadway star took notes on the inmates and used this material in her play "Diamond Lil." Mae especially admired Lulu, an experienced stick-up woman in her cell. "It really takes a lot of nerve to hold up a man," the awed actress told a news man who covered the trial. "If I wanted local color, I sure got it in that place."

Misinformed people have spread the incorrect assumption that Mae West was in the tall, modernized Women's House of Detention. Not only was the House of Detention not around in 1927, since it was designed during the Prohibition Era, it would look quite unlike the elaborate nineteenth century jail, which beautifully matched the rest of the judicial complex. [The left foreground area shows a low-rise masonry market building designed by Douglas Smith in 1883.]

People who make this mistake include actor David Duchovny, whose motion picture "House of D" [2004] paid homage to the former correctional facility [erected 1931, Sloan and Robertson, architects; demolished 1974]. When I interviewed the Yale-educated actor, he proudly told me Mae West had been locked up there. I winced.
This blog has been publishing articles like this for 10 freaking years.
Wow.
Woah, Neo.
Those who are easily shocked should be shocked more often.
— Mae West
She wrote her own plays, in the 1920s was a supported of both women's liberation and gay rights (from Wikipedia).
A rather extraordinary person.
Jane Mast.