I know that marketers et al do not really look at my web site when they email me offering all of the great information "my readers" would enjoy. I can practically see the variable names in the spam bot template where my web site name and URL get inserted.
No I do not do guest posts.
No I do not do link exchanges (sometimes I reply telling them my rate os $10,000 per link per day, 7 days payment in advance).
No I do no blog about dog products.
Sometimes I write back and refer them to my policy.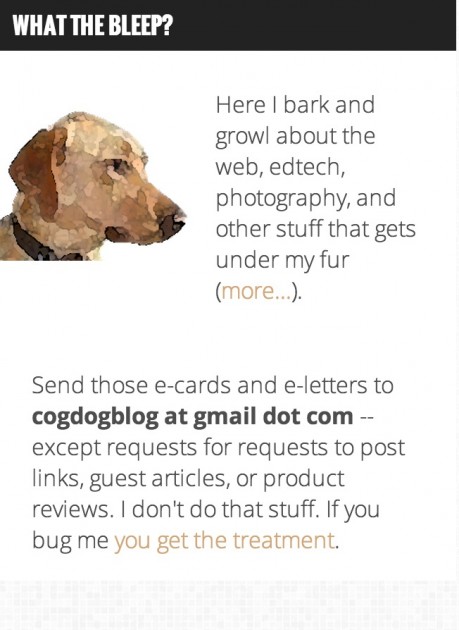 Sometimes they are just asking for The Treatment.
That's what Maxine was asking me this morning.
Hi,
Hello. Who are you?
I came across-your contact over the-web and wanted to-share a brief note. I think a few-changes, aesthetically and/or SEO-wise, can make your site-convert more-visitors into leads-and also get it placed-higher in the organic search-results, for a few of the select terms.
Can you try once more as a sentence? I am not-sure I can-make-sense of this-hypenated note-gibberish. Are you sayin you don't like my design?
(Search-Engine-Optimization is the-process of affecting the visibility of a-website or a web-page in a search-engine's "natural" or un-paid "organic" search-results)
Thanks for giving me a definition. Of your slimy practice.
This is NOT like one-of those foreign-emails you probably get in your-inbox every day. Just to be-upfront, I have 3 agents that-work with me for Web-Development-&-SEO.
Actually it's very similar to these emails I did get in my inbox frequently. And the ones I make fun of. And hey, I get plenty from people in my own country. Well, as far as I can tell. So your difference is you have 3 agents work for you? That is some kind of credibility?
I would just-need to know-which (if not both) services-you're open to checking out-information about, either web-design or-SEO. Would you be-open to seeing more-brief info / quote for what-I would like to accomplish?
This would be a big fat ________ NO.
Please get the —— off the internet. You are crapping all over it.
Regards,

Maxine
Digital-Marketing-Specialist

??hkseo
You should add a new title like Hyphenation-Annoying-Spammer-Leach-On-The-Back-of-Internet.
I feel better.
---
Top / featured image credit cc licensed (BY-NC) flickr photo by Pulpolux !!!: http://flickr.com/photos/pulpolux/295482149